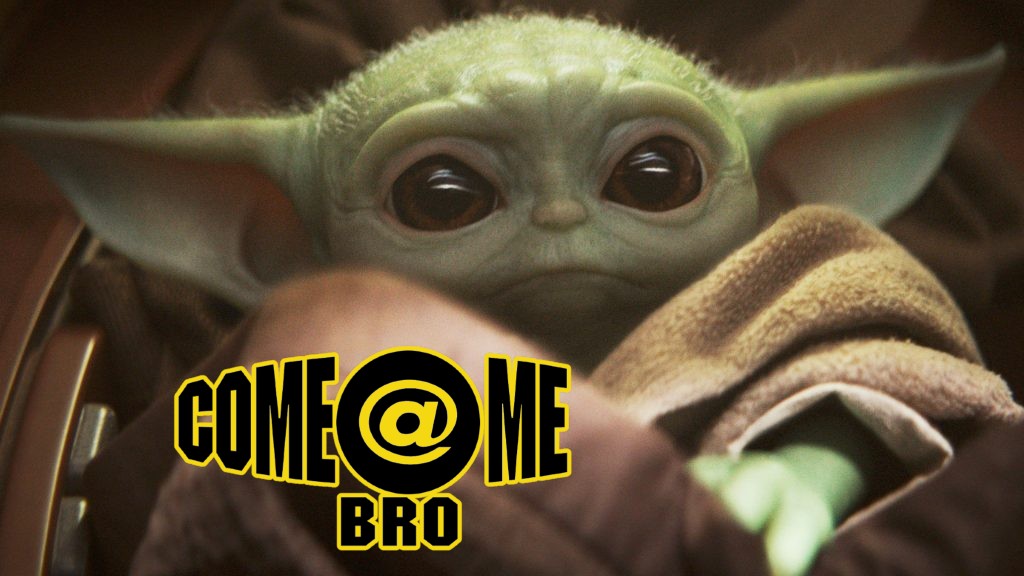 Could "The Child" from The Mandalorian be the true chosen one?
Hello. Nick Doll here. This week I won't be presenting your favorite column, COME @ ME, BRO! Instead I have a loose theory inspired by a tweet I saw. It's not a scoop or a rumor, simply a theory.
Let's get into it!
Anakin, Luke And Rey Certainly Weren't
The Chosen One was meant to bring balance to the Force.
Now, in this column I will only be referring to the Skywalker Saga – The Phantom Menace through Rise of Skywalker – and The Mandalorian. I don't watch the animated shows and I don't wanna.' So if I'm missing any clues or proof of Anakin, Luke, or Rey actually being the chosen one, that's on me.
Let's look at lil' almost-orphan Annie first, the great Jedi turned fierce Sith Lord, Anakin Skywalker.
Dearly departed Qui-Gon Jinn was the first to suspect that Anakin was the chosen one after witnessing his sick podracing skills. After all, no other human had the reflexes to safely "pod." Obi-Wan Kenobi was eventually convinced as well, as was the Jedi Council on Coruscant.
This seemed to ring true all the way to the end of Return of the Jedi, even after becoming Darth Vader. (Fun fact, I just learned that "Vader" in Dutch means "Father.")
Anakin first brought balance by – at least in film continuity – cutting the number of Jedi down to the number of Sith. (Then again the TV series and games keep adding Jedi and members of the Sith.) By the end of Revenge of the Sith. Obi-Wan and Yoda on one side, and Papa Palpatine and Vader on the other. Even if "balance" meant destroying the Sith – how is that balance? – Vader was the one to finally kill the Emperor right before his own demise. (And that's why you always wear a mask!). This left no Jedi except for Luke, who lacked the training of the Jedi of old.
Either the theory of Luke or Vader being the chosen one was thrown out by JJ Abrams and his mess of a film, Rise of Skywalker. If the Emperor returned only to be quickly dispatched by his granddaughter Rey, with an assist to Kylo Ren, then if anything Rey was the chosen one? Out of nowhere? I don't buy it. All she did was kill him again. And what assurances do we have that death actually takes this time?
Damn you, JJ!
Perhaps this means there is another… another. The Child perhaps?
Is The Prophecy Even True? What Does It Mean?
The Jedi were wrong about a lot of things in the Prequel Trilogy. For example, they did believe in absolutes. They were simply hypocrites with too much power who considered themselves on the right side of the Force. To be fair, they didn't murder innocents, so I'm not saying they weren't on the right side of the Force. I'm just saying they weren't exactly experts or an honest bunch.
I mean, too old to begin the training? Perhaps this did backfire with Anakin, but Luke turned out alight and did save the galaxy for approximately 30 years by helping turn Anakin back to the light. That council didn't know what they were talking about!
And again, what does "balance" even mean? To them it meant eliminating evil, but how is that balance? The best route would have been keeping what Rian Johnson seemingly had in mind, rather than erasing The Last Jedi's main points from existence. It seemed Kylo Ren was his own thing and not a Sith. And even when he was defeated, Rey could have been more of what I've heard called a "Grey Jedi." That feel's more like balance to me. I mean, you have to let the past die? Am I right?
Now, let's take a look at The Child from The Mandalorian.
The Case For The Child
This whole theory started for me when I saw the following Twitter post from Star Wars Holocron:
Did you know? Anakin Skywalker and The Child, a.k.a. Baby Yoda, were born in the same year – 41 BBY pic.twitter.com/RvO1eXTz1G

— Star Wars Holocron (@sw_holocron) September 28, 2020
I'm going to take their word for it as far as birth year. They do seem to be the experts.
Was the birth year a part of the prophecy? It doesn't sound like it. But what a coincidence from Lucasfilm's story department. The Child and Anakin Skywalker were born the same year? That seems more than just coincidence, I'd wager. Does it connect them in some way, with The Child still alive after the demise of Anakin?
Yes, this is very loose evidence to assume that The Child is the chosen one, but it did get me thinking. If Anakin, Luke, and Rey seemingly did not bring balance to the Force, who is not to say it won't be The Child? Assuming the prophecy is not bullshit.
After all, I believe he's the first one we've seen, not at his age because he's 50, but at his level of development use the force. He can't even talk, basically a baby compared to Anakin. He can't podrace, but he can lift giant creatures and heal using the Force. Without any training of course. Even Rey had some training. His power is unmatched for a creature of his development with no training.
Like I said, this evidence is sketchy but it seems to be leading somewhere down the line. Maybe the next trilogy will be set hundreds of years in the future and we'll see the fruits of my theory. Maybe there is no plan. It's a crazy theory, but Star Wars can get pretty crazy. I hear there is time travel now, in canon. So, why not?
COME @ ME, BRO!… Sort Of…
I'm not even saying I believe the theory, but it is interesting to think about. So what do you think? Is this theory about The Child complete horseshit or is there something behind it?
You know what I think, so I want you to Come @ Me, Bro! Let's do this in the comments below!
Continue the LRM Online conversation on Discord by CLICKING HERE!
—–
Have you checked out LRM Online's official podcast feed yet The LRM Online Podcast Network? This includes our flagship podcast Breaking Geek Radio: The Podcast, GeekScholars Movie News, and our morning show LRMornings. Check it out by listening below. It's also available on all your favorite podcast apps!
Subscribe on: Apple Podcasts |  Spotify  |  SoundCloud | Stitcher | Google Play
SOURCE: @sw_holocron

Have you checked out
LRM Online
's official podcast feed yet
The Genreverse Podcast Network
? This includes our premiere podcast
The Daily CoG
, 
Breaking Geek Radio: The Podcast
,
GeekScholars Movie News
,
Nerd Flix & Chill
,
Marvel Multiverse Mondays
,
Anime-Versal Review Podcast
, and our Star Wars dedicated podcast 
The Cantina
. Check it out by listening below. It's also available on all your favorite podcast apps!
Subscribe on:
Apple Podcasts
| 
Spotify
 | 
SoundCloud
|
Stitcher
|
Google Play