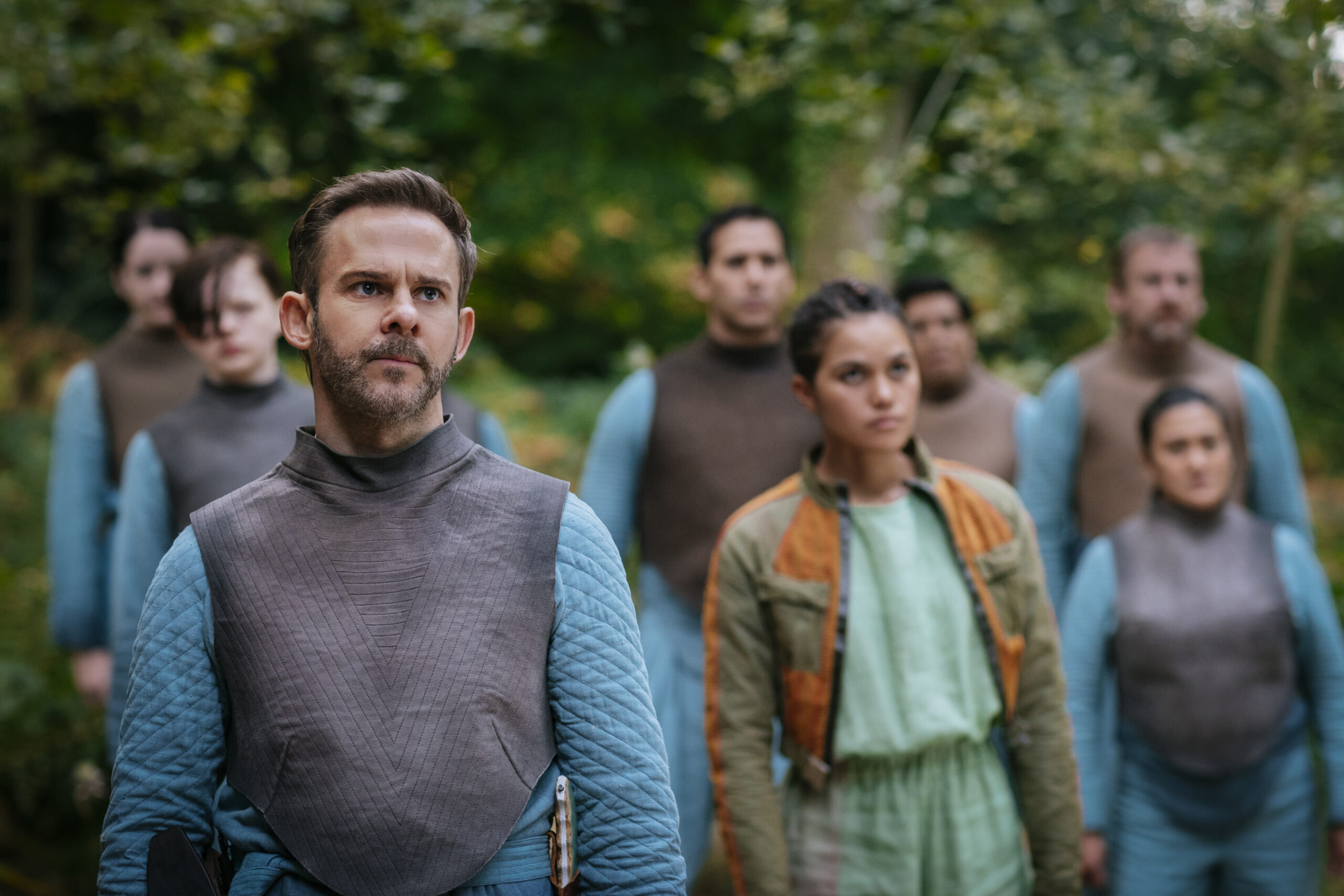 Photo Credit: Szymon Lazewski/AMC
Dominic Monaghan is part of the new futuristic series Moonhaven. Monaghan plays a detective that is well settled in his peaceful life until a pilot comes and shakes his life.   
The Synopsis 
Moonhaven centers on Bella Sway (Emma McDonald, "The Picture of Dorian Gray"), a lunar cargo pilot and smuggler 100 years in the future who finds herself accused of a crime and marooned on Moonhaven, a utopian community set on a 500-square mile Garden of Eden built on the Moon to find solutions to the problems that will soon end civilization on Mother Earth. A skeptic in Paradise, Bella is sucked into a conspiracy to gain control of the artificial intelligence responsible for Moonhaven's miracles and teams with a local detective to stop the forces that want to destroy Earth's last hope before they are destroyed themselves.
Dominic Monaghan's debut was on television in 1996 in BBC's Hetty Wainthropp Investigates. He received international recognition for playing Merry in the Lord of the Rings Trilogy. His popularity has led him to include appearing in other films like X-Men Origins: Wolverine and Star Wars: EpisodeIX – The Rise of Skywalker. Monaghan is also known for playing Charlie in the ABC series Lost and others like The Unknown, 100 Code and Quantum Break and Bite Club. 
From 2012-2016 he hosted his own television show Wild Things with Dominic Monaghan. Music lovers remember him for being part of the music video "Love the Way You Lie" by Eminem featuring Rihanna. Earlier this year he was heard voicing Archibald Desnay in The Legend of Vox Machina and in the podcast series, Moriarty: The Devil's Game.
I had the opportunity to speak with Dominic Monaghan about his participation in Moonhaven. He spoke about his character and how he envisions the world in 100 years from now. Monaghan discussed exploring pain as part of his job as an actor and more!
Moonhaven will premiere with two episodes July 7, 2022 followed by a weekly episode every Thursday. 
Source: LRMExclusive, AMC+

Have you checked out
LRM Online
's official podcast feed yet
The Genreverse Podcast Network
? This includes our premiere podcast
The Daily CoG
, 
Breaking Geek Radio: The Podcast
,
GeekScholars Movie News
,
Nerd Flix & Chill
,
Marvel Multiverse Mondays
,
Anime-Versal Review Podcast
, and our Star Wars dedicated podcast 
The Cantina
. Check it out by listening below. It's also available on all your favorite podcast apps!
Subscribe on:
Apple Podcasts
| 
Spotify
 | 
SoundCloud
|
Stitcher
|
Google Play