Welcome back to our fourth installment of Inspiration or Rip-off!  Last week we looked at The Flash/Quicksilver and Doom Patrol/X-Men.  Next week will be the fifth installment which will compare Superman/Shazam/Captain Marvel/Ms. Marvel which will book end  the release of Captain Marvel a couple weeks ago and Shazam on April 5.  Read on for the next comparison thanks to your Twitter votes!
Green Arrow (1941) and Hawkeye (1964)
Green Arrow — Powers / Abilities: Expert archer, skilled combatant, access to high-tech equipment and technology.
The emerald archer (Oliver Queen) was created by Mort Weisinger and George Papp and first appeared in More Fun Comics #73 in November of 1941. According to the Green Arrow — A Celebration of 75, that year had an influx of numerous high-profile characters including Wonder Woman, but just one month before her arrival Aquaman and Green Arrow made their debut in the above mentioned title. All three characters have continued to last over the past 75 years.
Green Arrow — A Celebration of 75 Years went on to state that in 1941 DC Comics were looking to capitalize on the success of Superman and Batman and asked Weisinger to create some new characters.  He went on the create Johnny Quick, Aquaman, and Green Arrow at the same time. Even though Oliver Queen looked to follow closely to the blueprint of Batman in the earlier comics, Weisinger disputed the similarities when he stated, "I wasn't remotely influenced by Batman. My Green Arrow was a streamlined Robin Hood– a law-abiding Robin Hood.  I then added props — the Arrowmobile, for one, and I got into the business of creating new kinds of arrows.  He'd say, 'In this situation I'll use my drill arrow, or my gas arrow, or my net arrow…'Of course, I was afraid a reader would ask someday, 'How the hell can he carry that many arrows in his little bag?'"
Green Arrow's origin story wasn't explored until 1943, and then a second origin story was released in 1959, which is closer to the origin many know from The CW show Arrow of being stranded on an island prior to becoming the Green Arrow. The character hit the big time when he was invited to join the Justice League, which interestingly had Batman initially vote for Hawkman over the emerald archer.
Hawkeye — Powers/Abilities: Master archer, expert tactician, acrobat, combatant, trick arrows.
Hawkeye, Clint Barton, first appeared in September of 1964 in Tales of Suspense #57 as a villain to Iron Man. His background and influences made him a jaded, and confused individual. It took some time for Barton to figure out where his allegiance was, and in Avengers Vol. 1 (May 1965) he was taken into the team as Iron Man forgave him and helped him move forward.
Barton's background deals with him being orphaned at a young age, escaping, and joining the circus where he developed his skills (maybe I should be comparing him to Dick Grayson's Robin…).  Trained by Trick Shot and Swordsman, he would eventually come back to face them much in the way of Batman and Ra's al Ghul. Captain American would also help Hawkeye refine his skills, which isn't a bad individual to learn from. Clint Barton is an individual with a checkered past who was cultivated by the team he would eventually join, which is more along the lines of what Marvel sets out to accomplish, realistic characters with fantastical abilities.
According to ComicChron results, Green Arrow shipped an estimated 18,989 units with their most recent distribution while the Old Man Hawkeye (who looks almost like a cross between Green Arrow and Aquaman, or is it just me?…) series released 24,585 units. This is interesting because in most cases the success of the comic series has a direct correlation to a character's popularity, but in this case we can possibly infer that maybe the success of CW's Arrow has helped the character's extended popularity, which can be seen in the GoogleTrends search below.  Hawkeye, meanwhile, has had spikes around the time that an Avengers movie has been released.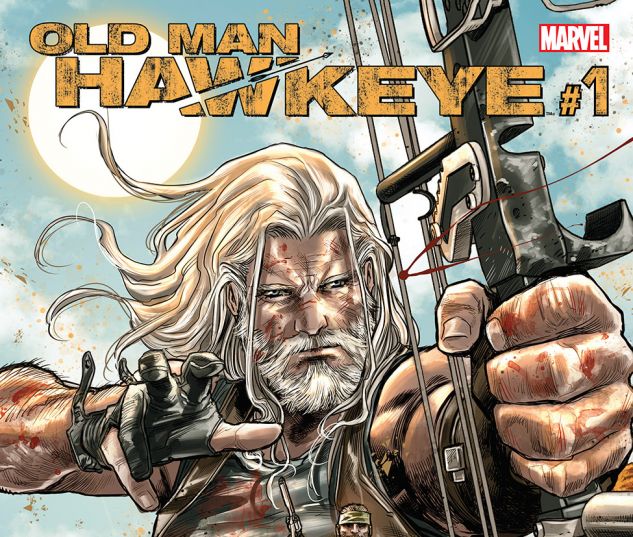 GoogleTrends
Solomon Grundy (1944) and The Hulk (1962)
Solomon Grundy — Powers / Abilities: Superhuman strength and stamina, healing factor, nearly invulnerable, virtually indestructible and immortal.
First appearing in All-American Comics #61 in October 1944 by Alfred Bester, the zombie-esque character has four main origins with the most followed going back to 1895 with the introduction of Cyrus Gold. The mainstay is that Cyrus Gold was killed and dumped into "The Slaughter Swamp" where he would eventually be resurrected into Solomon Grundy.  The character actually finds his routes from an old nursery rhyme which whenever he is resurrected he will say, "Solomon Grundy born on a Monday, Christened on Tuesday, Married on Wednesday, Took ill on Thursday, Grew worse on Friday, Died on Saturday, Buried on Sunday, That was the end of Solomon Grundy." The reference to the nursery rhyme is to show his lasting presence, much like nursery rhymes, and reflect the actual character's abilities of death and rejuvenation.
Grundy's main weakness is his lack of intelligence which makes him susceptible to manipulation.  Where his intelligence lacks he completely makes up for in strength, but can be used at times. Don't let his lack of intelligence fool you, he was a worthy adversary of the original Green Lantern from the Golden Age, Alan Scott, who tried to use his ring to stop Grundy, yet it was ineffective. It would later be revealed that Grundy was a part of Earth-2 which is why he was fighting Alan Scott as the Golden Age heroes were later established to be from this earth.
Bester wanted to create a character who had the main focus of destruction without the intellect to focus on much else. In doing so, he has created a character who has stood the test of time, yet has only had minimal love on the small screen.  Grundy was created before many of the well-known villains in the DC Universe, but has been limited to small roles on Arrow, Gotham, animated roles, and video games.  Some of these limitations may be from the fact that Grundy's character lacks intelligence which can mean a lack of depth as a character as well, although he has been in some great story-lines.
The Incredible Hulk — Powers / Abilities: Invulnerability, superhuman strength, stamina, durability, regenerative healing factor, and as Bruce Banner, genius intellect.
As many know, Stan Lee and Jack Kirby created The Incredible Hulk who made his debut in May of 1962 that ran for a series of six installments but was canceled almost a year later in March of 1963. The character continued to appear in Tales to Astonish, which would later be renamed with issue #102 to The Incredible Hulk in May of 1968.
The main difference between Hulk and Grundy is that Hulk changes back and forth between Bruce Banner which grants him times of extreme intelligence as Dr. Banner then a more primitive state when prompted with fear, rage, or stress.  Grundy, on the other hand, is constantly in a state of being unintelligent.
According to Marvel: Year-By-Year, when Stan Lee created The Hulk, he had no idea at the time how well the Fantastic Four would do, but he continued with the second major title character. Rather than the idea of a team fighting a monster, he wanted to feature a "monster" which was originally referred to as "The Strangest Man of All Time".  Lee and Kirby claim that their inspiration for the character was a mix of Frankenstein's monster and Dr. Jekyll and Mr. Hyde with some historical context of Cold War paranoia. The Hulk was originally gray, which many bring in when comparing to Grundy who came first (which honestly looks a good deal like Grundy), but due to color technology at the time, could not be consistently produced which lead to the green we all know and love. The Incredible Hulk and Fantastic 4 were broken into chapters with pages signed by Lee and Kirby in order for common fans to think there were multiple stories.
ComicChron reported The Hulk's recent line, Immortal Hulk, with an estimated 41,331 units while Solomon Grundy did not produce any results. Hulk comics have changed throughout the years. The Incredible Hulk title changed to Hulk in March 1999 which ran until February 2000 and was renamed again to The Incredible Hulk (the third volume), until March 2007 when a new title character was introduced in The Incredible Hercules. The Incredible Hulk returned in September 2009 beginning at issue #600, which became The Incredible Hulks in November 2010 and focused on the Hulk and the modern incarnation of his expanded family. The series returned to The Incredible Hulk in December 2011 and ran until January 2013, when it was replaced with The Indestructible Hulk then to The Totally Awesome Hulk from 2015-2017 back to Incredible Hulk from 2017-2018, and most recently The Immortal Hulk from 2018 to the current time.  Whew.  That was a lot.
GoogleTrends shows the obvious greater searches for The Hulk over Solomon Grundy.  Once again, consistency is the key, and The Hulk has had just that.  He has been involved in every major platform over the decades which has given him constant exposure, while Grundy has made minor appearances as mentioned above:
What did you think of this week's comparisons?  Once again, many similarities, so are they merely inspirations, or ripoffs?  Honestly, to me, it doesn't really matter.  If you are a comic lover, you will usually respect characters no matter what the brand.  Be sure to check in next week for the next installment comparing Captain Marvel, Shazam, and Superman!  Leave your thoughts in the usual spot, and thanks for reading!
Don't forget to share this post on your Facebook and Twitter using the buttons at the top! Or you can react to the post down below!
Sources: ComicChron, The Lance, CBR, Marvel Fandom, Marvel Year-By-Year, ScreenRant, Green Arrow — A Celebration of 75
Have you checked out
LRM Online
's official podcast feed yet
The Genreverse Podcast Network
? This includes our premiere podcast
The Daily CoG
, 
Breaking Geek Radio: The Podcast
,
GeekScholars Movie News
,
Nerd Flix & Chill
,
Marvel Multiverse Mondays
,
Anime-Versal Review Podcast
, and our Star Wars dedicated podcast 
The Cantina
. Check it out by listening below. It's also available on all your favorite podcast apps!
Subscribe on:
Apple Podcasts
| 
Spotify
 | 
SoundCloud
|
Stitcher
|
Google Play