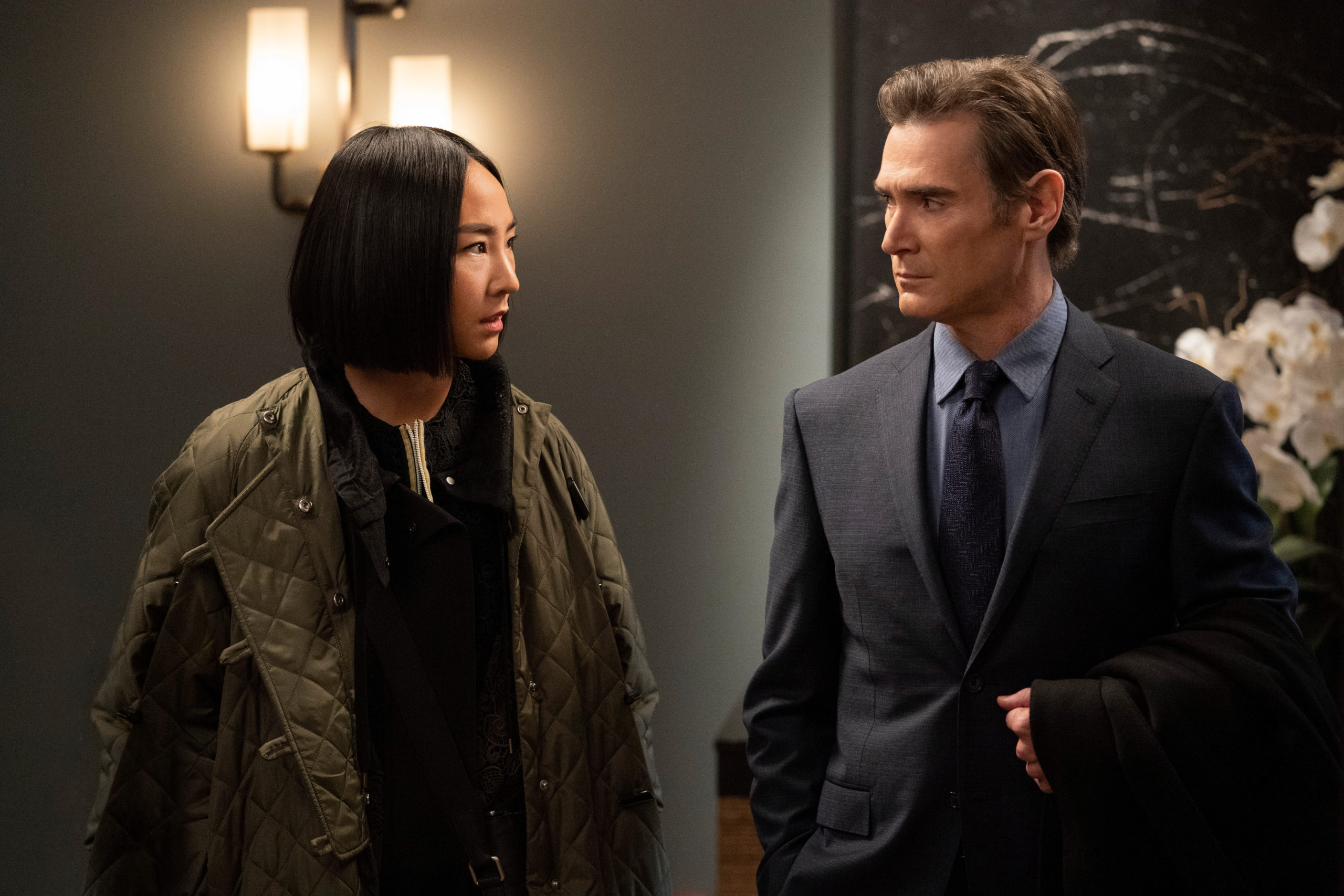 When the first season of Apple TV+'s The Morning Show came to a close, we knew that big changes were in store for UBA. Today we are going to finally be able to see what exactly those changes would look like… if any. Like any large corporation embracing change is not very easy, in fact it can be downright messy. Based on what we have seen from the first season we shouldn't expect anything else.
One of the immediate things that has changed is the new President of the UBA, Stella Bak. She is played by the talented Greta Lee. With a new millennial attitude, she is looking to make sweeping changes. Unfortunately, there is a big resistance from the remaining old guard. Including Billy Crudup's Cory Ellison, the President of the news division at UBA. They have quite an interesting relationship that we have the pleasure of watching develop on-screen.
With the release of the second season of The Morning Show, LRM Online's Emmanuel Gomez talked with Greta Lee. She tells us about what we can expect from her character. As well as how she is going to affect the UBA. It was a great conversation that you can check out below!
Here is the synopsis for Season 2 of The Morning Show
Picking up after the explosive events of season one, season two finds "The Morning Show" team emerging from the wreckage of Alex (Aniston) and Bradley's (Witherspoon) actions, to a new UBA and a world in flux, where identity is everything and the chasm between who we present as and who we really are comes into play.
Emmanuel Gomez: Thank you so much for your time with me today. I'm very excited to talk to you about the morning show.
Greta Lee: Nice to meet you. Likewise.
Emmanuel Gomez: You play Stella Bak in the show. I love her character. I will say some of the descriptions I've seen online, I'm not very happy with it. The way you are described as an ambitious leader of an online media company that caters to a millennial and gen Z audience. I think that's a description describing your previous job, right? So the way it sets it up, I feel like it does a disservice to your character. You're so much more than that. Can you give me a better description?
Greta Lee: So if that is where she's coming from on the show when we meet her. She is fully the youngest and first female president of the news division in the whole history of UVA. She is taking her perspective as a millennial. As a young Asian American and it puts herself to task in terms of rehabilitating this workplace and fixing the toxicity and the inequity racial and gender. It is very complicated and messy.
Emmanuel Gomez: You talked a little bit about your inner strength. Episode by episode, I feel like she's fighting that entire studio. But she does it with such poise and doesn't allow it to necessarily faze her in front of others.
Greta Lee: Yeah. Well, I'm glad you think that it's poise. Cause there are things about her that she is so relentlessly uncompromising, extremely stubborn, and at times really overconfident in the way she is executing things. She can have these blinders on where she's like at all costs. She's very like take no prisoners because it's all in the name of her vision for what UBA could be and should be. She's not always successful and it comes at a huge cost. It was very fun to play those scenes.
Emmanuel Gomez: Tell me about your experience of working with Billy Crudup as Cory Ellison.
Greta Lee: I have loved Billy's work for so long and I just knew that he was going to be so game to really step up to the plate and play ball. The dynamic between the two of them is so fascinating in that they are so different on the one hand. Yet in this other twisted way, they are maybe the same person just manifested differently. So yeah, I loved working with Billy.
Emmanuel Gomez: One of my favorite moments you're having a conversation with Sibel and your light bulb goes off when you start finding out that, that some people's chess moves may be almost a different game that they're playing. Can you talk a little bit about what kind of growth we'll see in your character this season?
Greta Lee: Well, I think growth is an interesting way to put it. We really get to see that she is faced with this question of what she is personally and morally willing to compromise and what she's not in order to successfully run a business and to be an effective boss. It's really interesting and also heartbreaking to see some of the choices that she has to make.
The change when we meet her at the beginning of the season and who she is at the end there are some hard lessons that she has to learn. Corey teaches and the situation with Nester with Yanko and cancel culture teaches her. I guess it is growth for her.
Emmanuel Gomez: Can you mention to me where you found the voice for your character, your persona. Is there anyone you looked up to, or is it just something that you kind of create on your own? Maybe some of those qualities were already there.
Greta Lee: I wanted to make sure she sounded like a millennial. To be fiercely protective of her outsiderness and make sure she sounded and looked different than everyone else at UVA. I wanted to really lean into her, like dressing kind of outrageously. There are things like she says, like "what's up?" you know? But I thought that was really great and true in terms of what I was finding in real life and like real actual young CEOs and leaders. How they carried themselves and what they sounded like. I was really surprised to find that that's closer to what they were like.
Emmanuel Gomez: What was your biggest takeaway from the character that maybe you take now to your personal life?
Greta Lee: I learned so much about how to be more comfortable with just having more status. How to be a leader and how to be a boss. I mean that's just like an ongoing lesson. I think, especially for young women too, there's a lot of discomfort in like how to do that. How the challenges of how we're received in that position.
Emmanuel Gomez: Do you think that Stella was brought in as a stunt to say "we're changing", or do you really feel like they're actually trying to move ahead I find myself throughout the season back and forth.
Greta Lee: I think they were really smart to be truthful about what we see happening in real life. We're in this incredible moment where there's this real cry for change racially, and also just in terms of inequity for women at the workplace. But showing that the story, the really compelling story, isn't like the moment that this like a young person gets there and it's going to change everything.
The actual story is, so what's gonna happen next after a corporate environment decides, we really want to be different. How do you do that? Actually, it's really messy and complicated and it's the like generational divide these very opinionated minds coming together and trying to figure this out together. There's just so much story there to tell.
Emmanuel Gomez: Yes. Yes. It's very well put together Gretta. Thank you so much for your time. I appreciate it. Congratulations on season two of The Morning Show. It's fantastic.

Have you checked out
LRM Online
's official podcast feed yet
The Genreverse Podcast Network
? This includes our premiere podcast
The Daily CoG
, 
Breaking Geek Radio: The Podcast
,
GeekScholars Movie News
,
Nerd Flix & Chill
,
Marvel Multiverse Mondays
,
Anime-Versal Review Podcast
, and our Star Wars dedicated podcast 
The Cantina
. Check it out by listening below. It's also available on all your favorite podcast apps!
Subscribe on:
Apple Podcasts
| 
Spotify
 | 
SoundCloud
|
Stitcher
|
Google Play