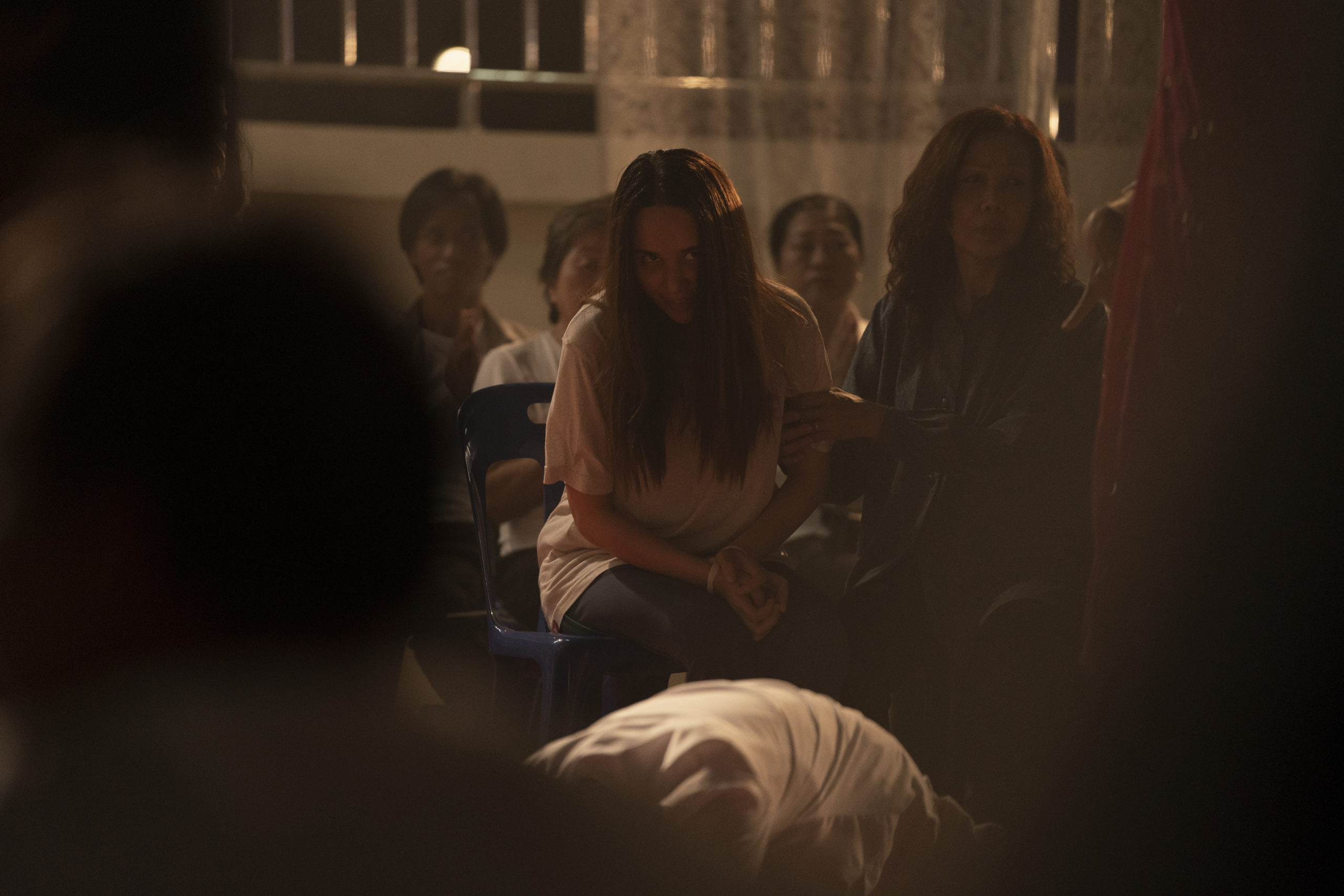 Narilya Gulmongkolpech as Mink, Sirani Yankittikan as Noi – The Medium – Photo Credit: Sasidis Sasisakulporn/Shudder
Found footage style of horror films are so much fun. If done correctly they offer audiences the option to buy into the idea that what they are watching is real. In which case sometimes what we see on screen lingers in our mind as a possible reality. Also adding another layer of frights. With that, we are excited to share with you the trailer for The Medium.  This Shutter Exclusive film will be released on their streaming platform on October 14th. Check it out below!
Here is the synopsis for The Medium
A documentary team follows Nim, a shaman based in Northern Thailand, the Isan area, and encounters her niece Mink showing strange symptoms that seem to be of inheritance of shamanism. The team decides to follow Mink, hoping to capture the shaman lineage passing on to the next generation, but her bizarre behavior becomes more extreme. From director Banjong Pisanthanakun (Shutter) and producer Na Hong-jin (director of The Wailing)
This past summer, The Medium was released in South Korea. Currently, it sits as the 6th highest-grossing Korean film of 2021. It was an official selection at the Bucheon International Film Festival this year, where it also won Best Film. It was also a selection for Beyond Fest and BFI London Film Festival.
This film stars Sawanee Utoomma, Narilya Gulmongkolpech, Sirani Yankittikan and is written by both Pisanthanakun and Na. 
By the way the trailer was put together this looks like a terrifying film. Especially that last scene that we get to see! I am very excited to get to watch this as found footage types of films are some of my favorites to enjoy. Let us know what you thought of the trailer down below!
The Shutter Exclusive horror film, The Medium will be released on their streaming platform on October 14th, 2021.
Have you checked out
LRM Online
's official podcast feed yet
The Genreverse Podcast Network
? This includes our premiere podcast
The Daily CoG
, 
Breaking Geek Radio: The Podcast
,
GeekScholars Movie News
,
Nerd Flix & Chill
,
Marvel Multiverse Mondays
,
Anime-Versal Review Podcast
, and our Star Wars dedicated podcast 
The Cantina
. Check it out by listening below. It's also available on all your favorite podcast apps!
Subscribe on:
Apple Podcasts
| 
Spotify
 | 
SoundCloud
|
Stitcher
|
Google Play