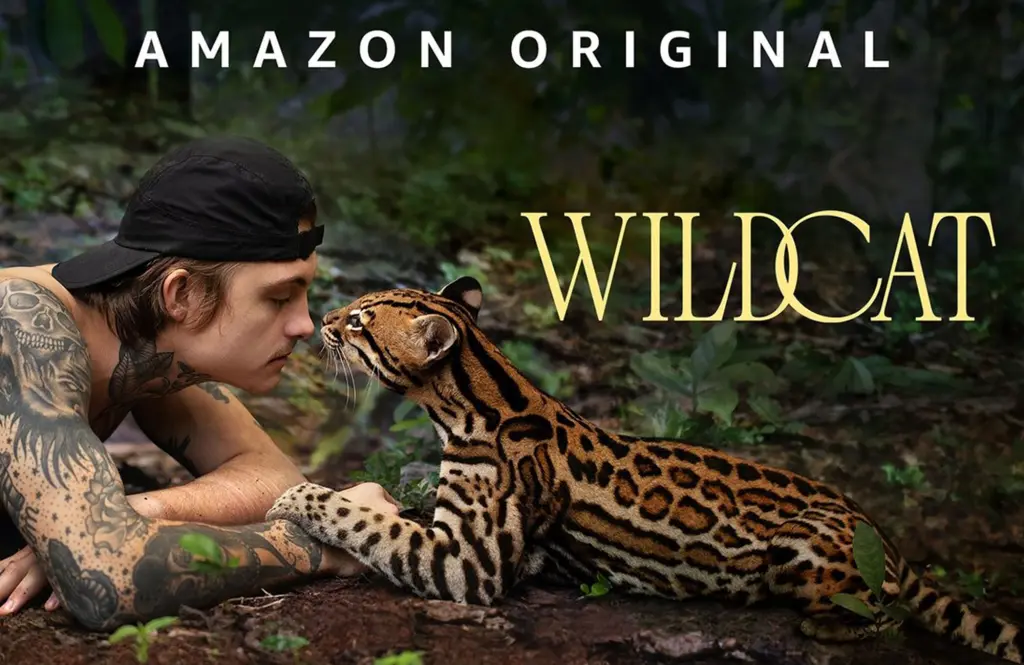 Wildcat Poster | Courtesy of Prime Video
The Wildcat documentary is a shared project by co-director and co-producers, Trevor Beck Frost And Melissa Lesh. A touching film that has won seven awards since its release in various film festivals. It is no surprise that Wildcat as one of the Top 5 Documentaries of the Year from the National Board of Reviews.
The Synopsis 
Suffering from depression and PTSD after a tour in Afghanistan, British Army veteran Harry Turner intends to take his own life in the Amazon rainforest far from his family and home. But once there, he meets Samantha Zwicker, an American scientist with a plan to return an orphaned ocelot to the wild for the first time. Falling in love with the kitten and Samantha, Harry agrees to act as surrogate parent to the ocelot, teaching him to hunt, defend himself, and, most importantly, become wild and leave Harry behind. While Samantha heals from her own traumatic past, Harry will have to wrestle with his internal demons if he and the cat are to survive.
Also Read Harry Turner Talks About Cats Saving Him In Wildcat | Exclusive
 I was connected with Trevor Beck Frost And Melissa Lesh to discuss Wildcat. Frost shared the story of how while he was in the Peruvian Amazons on a new project he heard about Harry Turner and Samantha Zwicker. Lesh talked about the cinematography since most of the material was created by Turner and Zwicker due to the reintroduction protocol. They both shared how emotional this project was and Frost had to disconnect from the making for eight months and more! 
Wildcat is available globally on Prime Video December 30, 2022
Source: LRMExclusive, Prime Video

Have you checked out
LRM Online
's official podcast feed yet
The Genreverse Podcast Network
? This includes our premiere podcast
The Daily CoG
, 
Breaking Geek Radio: The Podcast
,
GeekScholars Movie News
,
Nerd Flix & Chill
,
Marvel Multiverse Mondays
,
Anime-Versal Review Podcast
, and our Star Wars dedicated podcast 
The Cantina
. Check it out by listening below. It's also available on all your favorite podcast apps!
Subscribe on:
Apple Podcasts
| 
Spotify
 | 
SoundCloud
|
Stitcher
|
Google Play