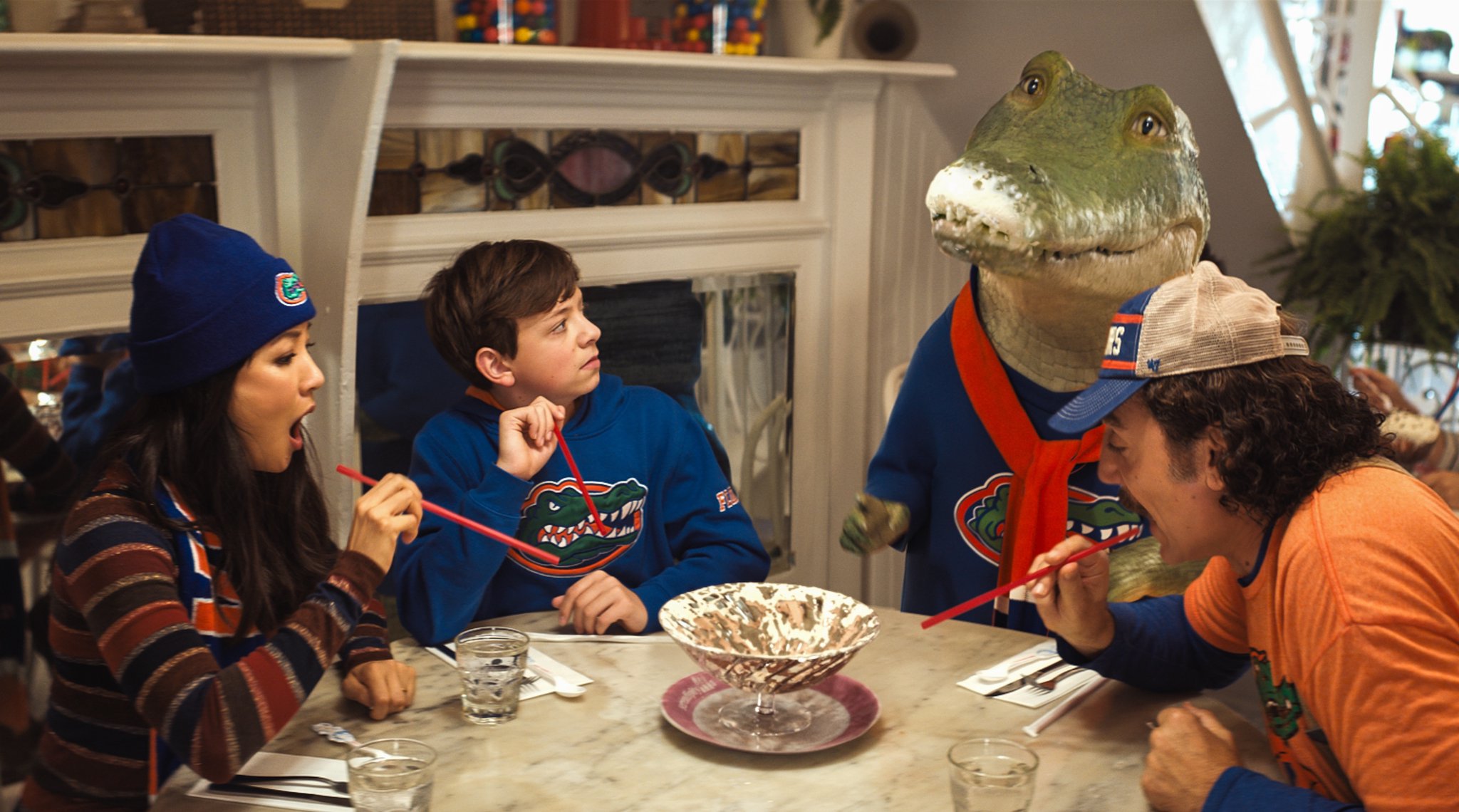 Lyle, Lyle, Crocodile is the story of the singing eponymous reptile. Hector P. Valenti (Javier Bardem) has big dreams in show business but has found his act to be more than lacking. While seeking to liven things up by introducing a new animal to his act, Valenti stumbles upon baby Lyle (Shawn Mendes) and discovers his oratory gift. With dollar signs in his eyes, Valenti begins crafting his next great show starring Lyle, but fate intervenes and the two separate. Eighteen months later, Lyle is living alone in the attic of a house recently bought by the Primm family. When the son Josh (Winslow Fegley) befriends Lyle, a new spark ignites the Primm's passions and brings them together as a family with some wild adventures along the way.
What works in Lyle, Lyle, Crocodile is its simple warmth and the music. Describing a film as "formulaic" often has a derivative or negative connotation, here it means that Lyle, Lyle, Crocodile will remind audiences of family-friendly fare now rare. The concept of a mischievous yet delightful animal serving as a conduit for love, energy, and inspiration isn't new, but it can work incredibly well in the right setting and Lyle, Lyle, Crocodile proves that. One should also note that this story is adaptation of a timeless children's book of the same name written by Bernard Waber in 1965. Directors Will Speck and Josh Gordon (The Switch, Office Christmas Party), encourage audiences to lean into the heart and positive vibes of the film which will wrap around people like a cozy blanket.
One would be remiss not acknowledge the fantastic collection of original songs Lyle, Lyle, Crocodile. Has to offer. Led by the song-writing team of Benj Pasek and Justin Paul (The Greatest Showman, Dear Evan Hansen), the collection of hits will have toes tapping and heads bopping throughout the entirety of the movie. These are bolstered (of course) by Mendes who lends his fantastic vocals to Lyle's singing. The music is catchy, energetic, and charismatic.
Individuals who don't enjoy the aforementioned animal-makes-everything-better formula, or who prefer more depth in their storytelling, may not appreciate Lyle, Lyle, Crocodile as much as others. The creative team (perhaps wisely) crafted a lean narrative. Relationships develop off screen, big problems get resolved with a wave of the hand, and even the passage of time is a bit nebulous. The filmmakers take a "just enjoy the ride" approach which will likely keep younger patrons engaged but might leave older viewers wondering if they missed a beat.
Lyle, Lyle, Crocodile is a fun time at the movies for all ages. While it may focus more on musical numbers and gags than plot and characters, the tradeoff is net positive.
Audiences can find Lyle, Lyle, Crocodile in theaters starting October 7th, 2022
Recommended if you Enjoyed: Beethoven, Paddington, Clifford the Big Red Dog

Have you checked out
LRM Online
's official podcast feed yet
The Genreverse Podcast Network
? This includes our premiere podcast
The Daily CoG
, 
Breaking Geek Radio: The Podcast
,
GeekScholars Movie News
,
Nerd Flix & Chill
,
Marvel Multiverse Mondays
,
Anime-Versal Review Podcast
, and our Star Wars dedicated podcast 
The Cantina
. Check it out by listening below. It's also available on all your favorite podcast apps!
Subscribe on:
Apple Podcasts
| 
Spotify
 | 
SoundCloud
|
Stitcher
|
Google Play