This past weekend saw Blumhouse hit it big with their Oscar win for Best Original Screenplay for their hit film, Get Out. Given their overall strategy and dedication to genre films, it's a pretty great thing that a film selling itself as a standard horror flick got so far in the industry. However, that isn't the only big success the studio is celebrating.
According to Deadline, Blumhouse has just won an auction for a spec script called Invasion, which was written by John Swetnam and Harris Wilkinson. The story reportedly bundles in a tried-and-true sci-fi premise and blends it with messages surrounding immigration.
Most interesting (at least to me) is that it doubles down on the whole Invasion name. Not only does the film chronicle an alien invasion, but it chronicles a home invasion that occurs during the alien invasion. Xzibit, eat your heart out.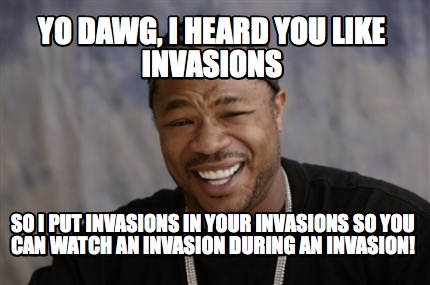 While Swetnam and Wilkinson are now household names, they do seem to be well embedded in the industry. Swetnam recently sold a script to Amblin, and he even wrote the film Into the Storm. Wilkinson recently wrote Leprechaun: Origins. Certainly, these aren't award-winning films, but hey, ever writer has the potential for greatness, right?
Don't forget to share this post on your Facebook wall and with your Twitter followers! Just hit the buttons on the top of this page.
SOURCE: Deadline