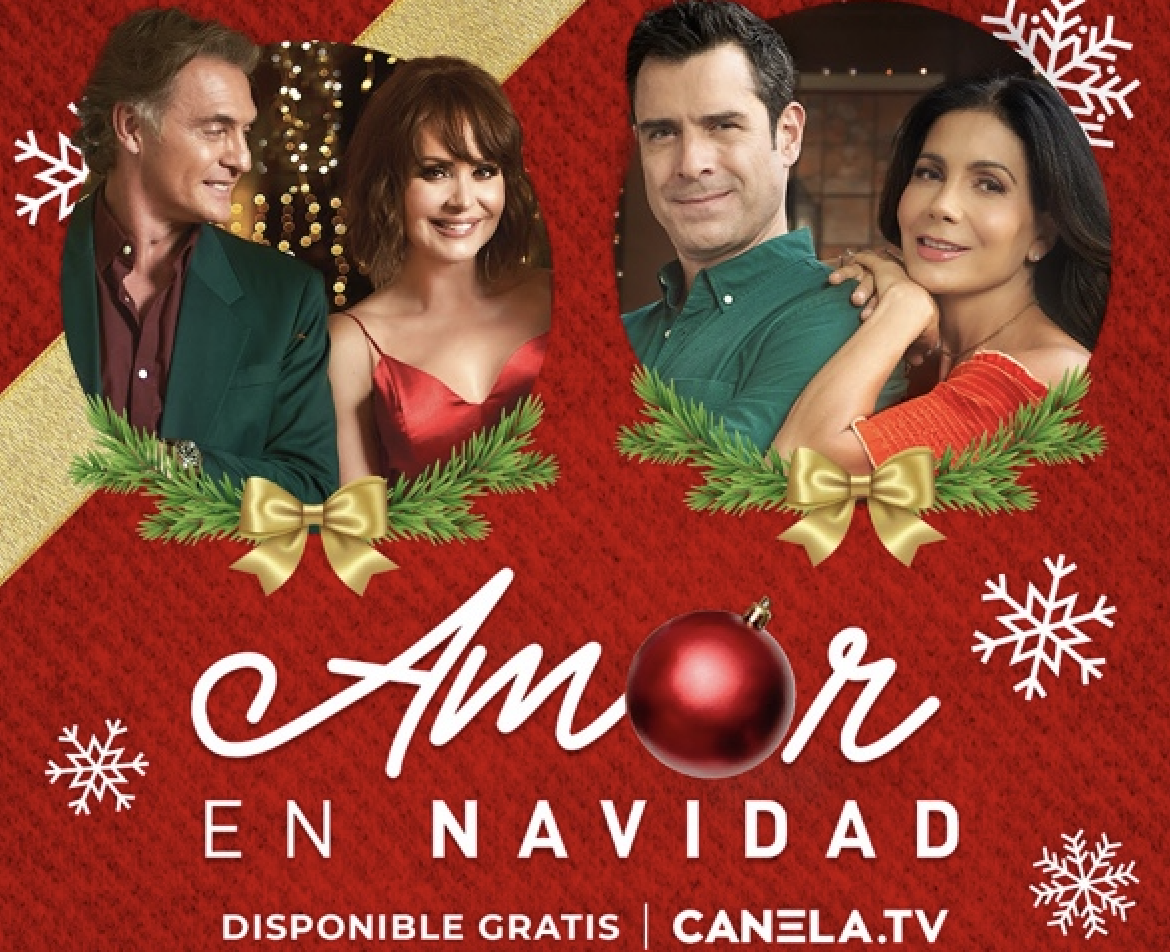 Amor en Navidad Poster | Cortesía de Canela.TV
Excited for the holiday break to get caught up on some entertaining programming? Canela.TV, Prime Video and Peacock came out with several options earlier this month. From reality drama, crime investigation, life confessions to of course the Christmas fiesta! Check out the line up below…   
MI VIDA | Canela.TV
If you are a fan of Latino entertainment, enjoy "Mi Vida" an original reality series that you can find on the free application Canela.TV that will allow you to enter the lives of some of the icons of Hispanic television in a more personal way. Among the stars who bare their souls in the series are Kate Del Castillo, Manolo Cardona, Roselyn Sánchez, Julián Gil, and Jencarlos Canela. The beloved stars of "Mi Vida" have been a large part of the formation of Spanish-speaking television in the US. Between actors, dancers, singer-songwriters and businessmen, these stars have contributed to the Latino community even in our homes, bringing us laughter, tears and even scares with their projects on television. 
También Leer Julián Gil Comparte Que Vivió Como Ilegal En Mi Vida | Entrevista Exclusiva
SECRETOS DE VILLANAS: LAS VACACIONES | Canela.TV
Escape the winter chill with a vacation that will have you buzzing! "Secretos de Villanas: Las Vacaciones" will document the unforgettable and luxurious getaway to Cabo San Lucas of this iconic group of villains that includes Gaby Spanic, Cynthia Klitbo, Aylin Mújica, Geraldine Bazán, Sabine Moussier, and Sarah Mintz (formerly known as Maritza Rodriguez). In this second part, the public will see how these divas really are when they are out of character. These vacations are filled with exciting experiences like traveling in a private jet and staying in a beautiful beachfront villa, as well as difficult and unexpected moments that will change everyone's lives.
También Leer Gabriela Spanic Habla De La Realidad De Una Figura Pública | Secretos De Villanas Exclusiva
AMOR EN NAVIDAD | Canela.TV
With the holiday season comes festive decorations, the cold of winter, and most of all, holiday entertainment! This season, the Canela.TV platform brings you the best in festive programming with a Latin touch with the premiere of "Amor en Navidad". The original and exclusive series has four episodes with different festive stories made for and starring Latinos. Among the cast participants are Gabriela Spanic, Juan Soler, Cristian de la Fuente,Patricia Manterola and many more!
In addition to these series, Canela Media has a variety of festive content for lovers of classic Christmas movies, the little ones in the family, and fans of Latin music. Content such as Christmas with Hallmark available on Canela.TV, Holiday Kids Specials on Canela Kids, and Holiday Music Channel on Canela Music, are some of the many programs that you can find for free through the Canela Media applications this Christmas season.
WHO KILLED JENNI RIVERA? | Peacock
Peacock premieres their new crime investigation series based on true events, Who Killed Jenni Rivera?. This original production is a 3-part special that explores the life and mysterious death of the famed regional Mexican artist, a decade after Jenni Rivera's December 9 death.
LOVE FOR THE AGES | Peacock
Deep in the heart of the legendary city of angels, three middle-aged LA-tino couples, all at a personal and emotional crossroads in their marriages, find themselves granted the wish of a lifetime. What will they do with the chance to turn back time and swap their current spouses for much younger partners for a month of real-life change? A powerful social and psychological experiment sparked by the current trend of "age-gap" couples, audiences will share in the discovery as to whether the original couples opt to remain together, for better or worse, or dare to embark on a new life alone or with a sexy new partner.
Also Read Adrienne Bailon Talks About The Authenticity And Boundaries In Love For The Ages | Exclusive
Love For The Ages will consist of eight one-hour episodes, the first four episodes will be available on December 15 and the remaining four will be available on December 22. The reality show will be presented by Adrianne Bailon-Houghton, you can't miss it.
LOL: LAST ONE LAUGHING MEXICO | Prime Video
Bring on the LOLStars! You'd think that after experiencing the pain, mockery, and humiliation of a season or two of LOL: Last One Laughing Mexico, no one would be willing to play it again. Fortunately, these LOLStars don't learn and return home to show why they were the best "losers" of their seasons.
Spoilers? They come without fear as they have already lost everything. For the fifth time, Eugenio Derbez leads the group of reckless comedians on their way to madness, locking them in a house for six hours with the only one rule…NOT LAUGHING. 
Did you pick your must watch?
Source: Canela.TV, Prime Video, Peacock

Have you checked out
LRM Online
's official podcast feed yet
The Genreverse Podcast Network
? This includes our premiere podcast
The Daily CoG
, 
Breaking Geek Radio: The Podcast
,
GeekScholars Movie News
,
Nerd Flix & Chill
,
Marvel Multiverse Mondays
,
Anime-Versal Review Podcast
, and our Star Wars dedicated podcast 
The Cantina
. Check it out by listening below. It's also available on all your favorite podcast apps!
Subscribe on:
Apple Podcasts
| 
Spotify
 | 
SoundCloud
|
Stitcher
|
Google Play