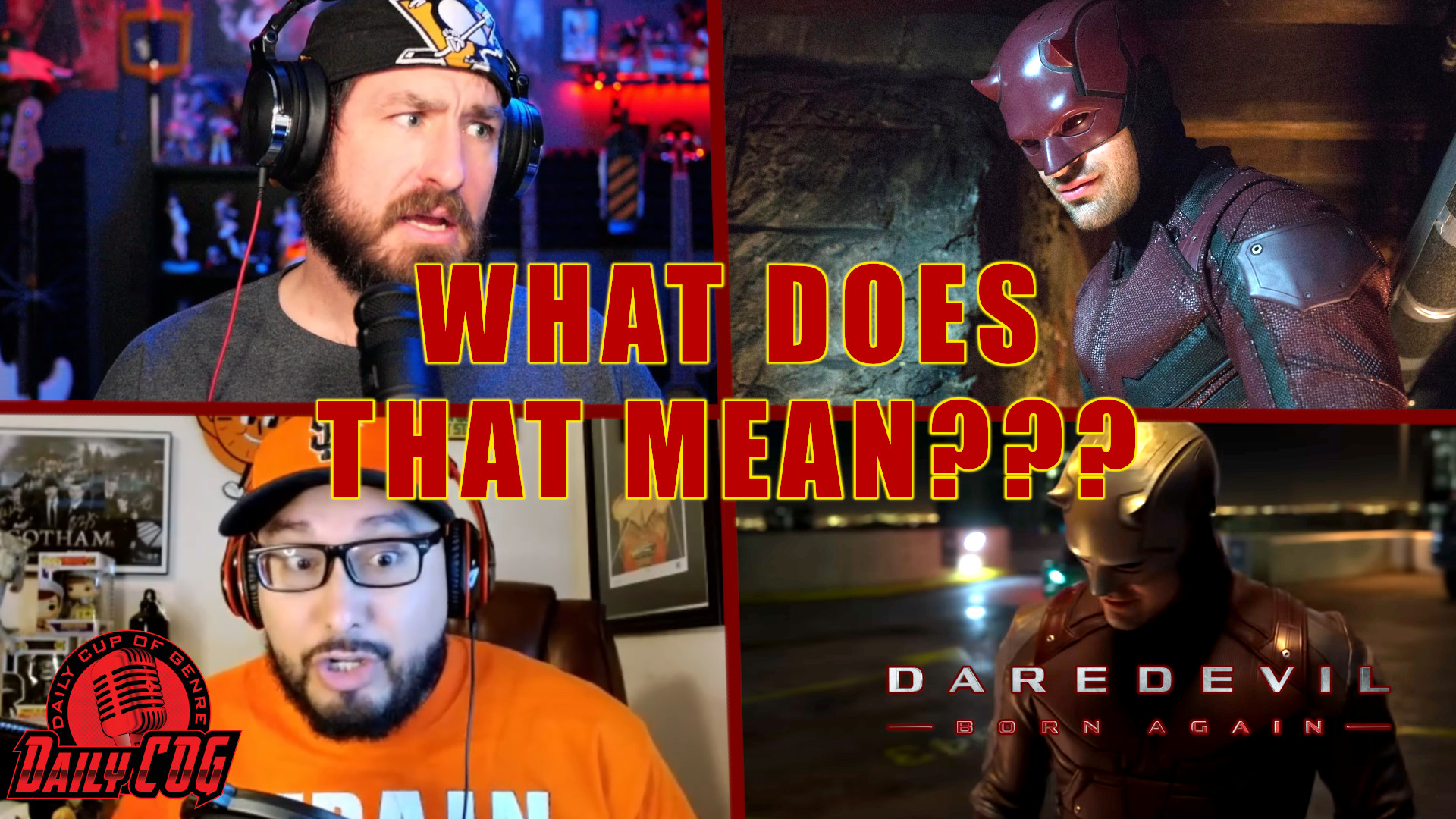 Going Soft? Daredevil: Born Again "Tonally Different" Says Cox | Daily COG
Today, the guys discuss their (3 days late) thoughts on D23's Star Wars and Marvel announcements. However, it's Charlie Cox's Daredevil: Born Again comments that have them really upset. Also, they discuss the continuing Marvel villain problem. The problem that they don't really have many… Welcome to the Daily Cup of Genre!
(00:00)- Intro & Thoughts on D23
(09:24)- Theaters Still Need Love
(13:20)- Villains & Daredevil Going Soft?
(21:40)- Changing Characters/Different Versions & Phase 4 Burnout
(31:51)- Wakanda Forever Fears
(40:04)- Final Thoughts
Follow @TheGenreVerse and @LRM_Exclusive to stay up to date on the latest and greatest in entertainment news!
The Daily Cup of Genre (DailyCOG) is the daily (almost) podcast of LRM's GenreVerse Podcast Network. What is The GenreVerse? It is everything you have ever loved, all in one place. From Star Wars to Star Trek, Anime to Disney princess movies, and PlayStation to the NES… The GenreVerse is as limitless as the multiverse of DC and Marvel. This show takes all of that, adds chaos, and delivers you entertainment. Join Kyle (@ThatKyleMalone) and Manny (@MannyGomezMedia) every Monday – Friday for your Daily Cup of Genre!
Support:
We have SO MANY podcasts! Anime-Versal Reviews Podcast covers anime (duh!), The Cantina covers everything Star Wars, and the Marvel craze continues with reviews on Marvel Multiverse Mayhem. Also, classics like BGRtP are still going!
Please like, share, and SUBSCRIBE to the podcast. Again, this will help us help you! Also, by getting more visibility, with more feedback, and a bigger audience, we can provide more content for YOU!
Catch the last episode here:
Question(s) of the day: What were your thoughts on D23? Also, how do you feel about Charlie Cox's Daredevil: Born Again comments?
Have you checked out
LRM Online
's official podcast feed yet
The Genreverse Podcast Network
? This includes our premiere podcast
The Daily CoG
, 
Breaking Geek Radio: The Podcast
,
GeekScholars Movie News
,
Nerd Flix & Chill
,
Marvel Multiverse Mondays
,
Anime-Versal Review Podcast
, and our Star Wars dedicated podcast 
The Cantina
. Check it out by listening below. It's also available on all your favorite podcast apps!
Subscribe on:
Apple Podcasts
| 
Spotify
 | 
SoundCloud
|
Stitcher
|
Google Play