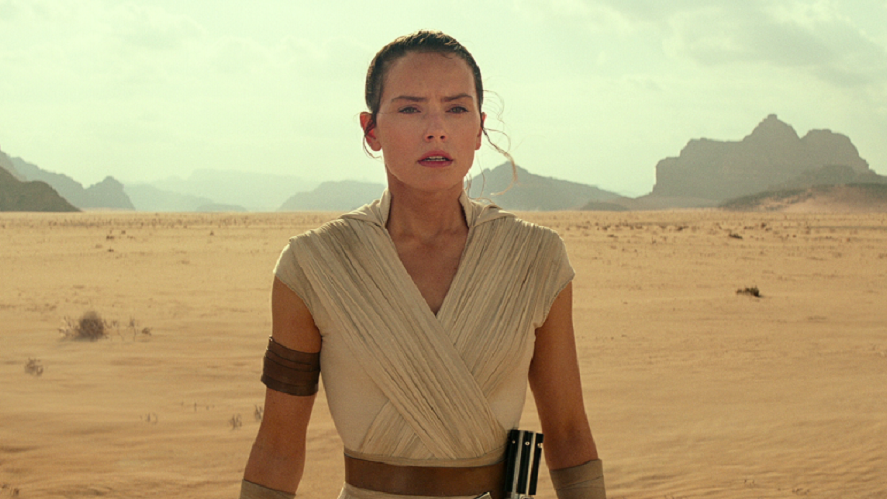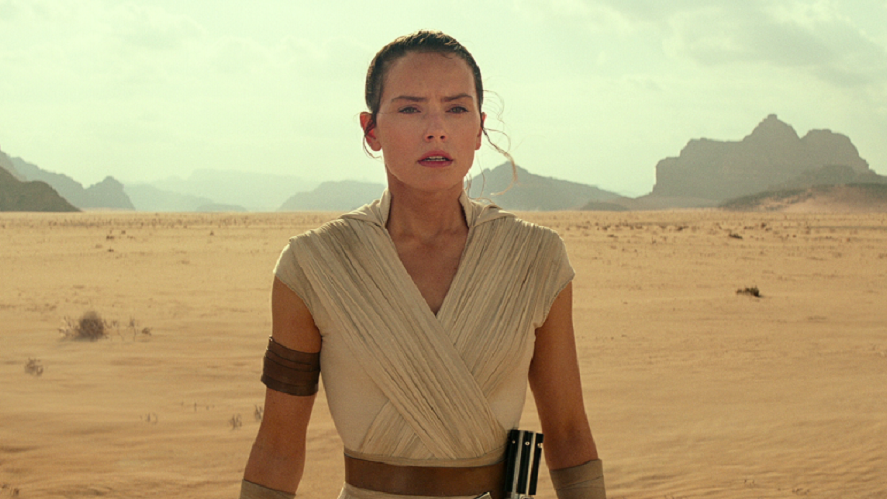 It's no big secret that I wasn't the biggest fan of Star Wars: The Rise of Skywalker. While I had a fun enough time watching it (though I found myself groaning throughout the final act), upon further reflection, it had a lot of issues that I find myself thinking about constantly. The short version is that it seems more interested in giving us fan service than telling us a cool story, and I can find no better example of that than the very last scene in the film.
In that final scene, we see our hero, Rey, return to the familiar farm on Tatooine. She goes on to bury Luke and Leia's lightsabers, and when a passerby asks her first and last name, she answers Rey Skywalker. It may seem like the perfect answer and the perfect ending, but it rings incredibly false to me. 
Let's start with Tatooine. As far as we know, this isn't a planet that Leia herself has much attachment to — last time she was there, she was forced to wear a metal bikini and next to Jabba the Hutt. Luke has more emotional connections to this place, but the last time he was at the farm, he saw the burnt corpses of his aunt and uncle, and even before that, he spent his teen years complaining about being stuck there forever. Not exactly prime childhood stuff there.
But do you know who does have fond memories of Tatooine? Us fans. From the opening of A New Hope to the opening action sequence in Return of the Jedi, there are countless great moments we connect to and associate with Luke Skywalker and the whole of the franchise. It was almost as though director J.J. Abrams was more interested in what fans would connect with than what characters would more reasonably connect with.
On that same note, let's look at Rey's adoption of the Skywalker name. While, at face value, it seems to make sense, when you dig deeper, not so much. Skywalker may be a legendary name, but let's remember, she only spent a few days with Luke, and those days were tumultuous at best. The real Jedi she spent most of her time with was Leia Organa, and that makes me think the name Organa is one she should have adopted (I think we call can agree that Solo is a name that she wouldn't touch, though). Again, it feels like Abrams was less interested in what would make sense from a character perspective and more interested in what resonates with fans.
This is a microcosm of the main problem I had with the movie. Around every turn, it seemed to make decisions based on fan desire or discussion rather than what would make sense for a character, and it's because of this approach that many scenes in these movies simply didn't work for me. Because these moments resonate with the history of the franchise rather than the story in isolation, it feels more like they're checking off boxes for the fans than giving us the logical next step in a story.
And don't get me started on Palpatine. He reeks of his approach most of all. His return was hardly explained (though in Abrams' defense, there's likely no explanation that would have satisfied, simply because it all makes no sense), his plan is unclear, and effectively every bit of logic was lobbed out the window in favor of delivering something fans would recognize, motivations be damned. Even if neutral fans didn't care for it, there'd be that initial, "Oh, yes, the Emperor. I know him."
Don't get me wrong. I don't hate this movie. I'm a fan too, so when these moments hit, they sometimes work…so long as I don't think too hard. Chewie getting Han's medal? It worked for me as a fan, but not so much as a storyteller, as the medals' importance isn't really stated in the film, and doesn't make sense outside of the context of fandom, who has attached fan-driven importance to Chewie never getting a medal following the Battle of Yavin. That is The Rise of Skywalker in a nutshell, and almost as if to illustrate this point in one succinct scene, we ended the film with the previously-mentioned Rey Skywalker moment. It was as if Abrams himself had wrapped up a message in a little bow that said:
"We're not trying to tell a story, we're trying to sell you on a warm, fuzzy feeling through contrived callbacks," and I'm personally not on board with that.
Don't forget to share this post on your Facebook wall and with your Twitter followers! Just hit the buttons on the top of this page.
—–
Have you checked out LRM Online's official podcast feed yet The LRM Online Podcast Network, which includes our flagship podcast Los Fanboys, our premiere podcast Breaking Geek Radio: The Podcast, and our morning show LRMornings? Check it out by listening below. It's also available on all your favorite podcast apps!
Subscribe on: Apple Podcasts |  Spotify  |  SoundCloud | Stitcher | Google Play

Have you checked out
LRM Online
's official podcast feed yet
The Genreverse Podcast Network
? This includes our premiere podcast
The Daily CoG
, 
Breaking Geek Radio: The Podcast
,
GeekScholars Movie News
,
Nerd Flix & Chill
,
Marvel Multiverse Mondays
,
Anime-Versal Review Podcast
, and our Star Wars dedicated podcast 
The Cantina
. Check it out by listening below. It's also available on all your favorite podcast apps!
Subscribe on:
Apple Podcasts
| 
Spotify
 | 
SoundCloud
|
Stitcher
|
Google Play