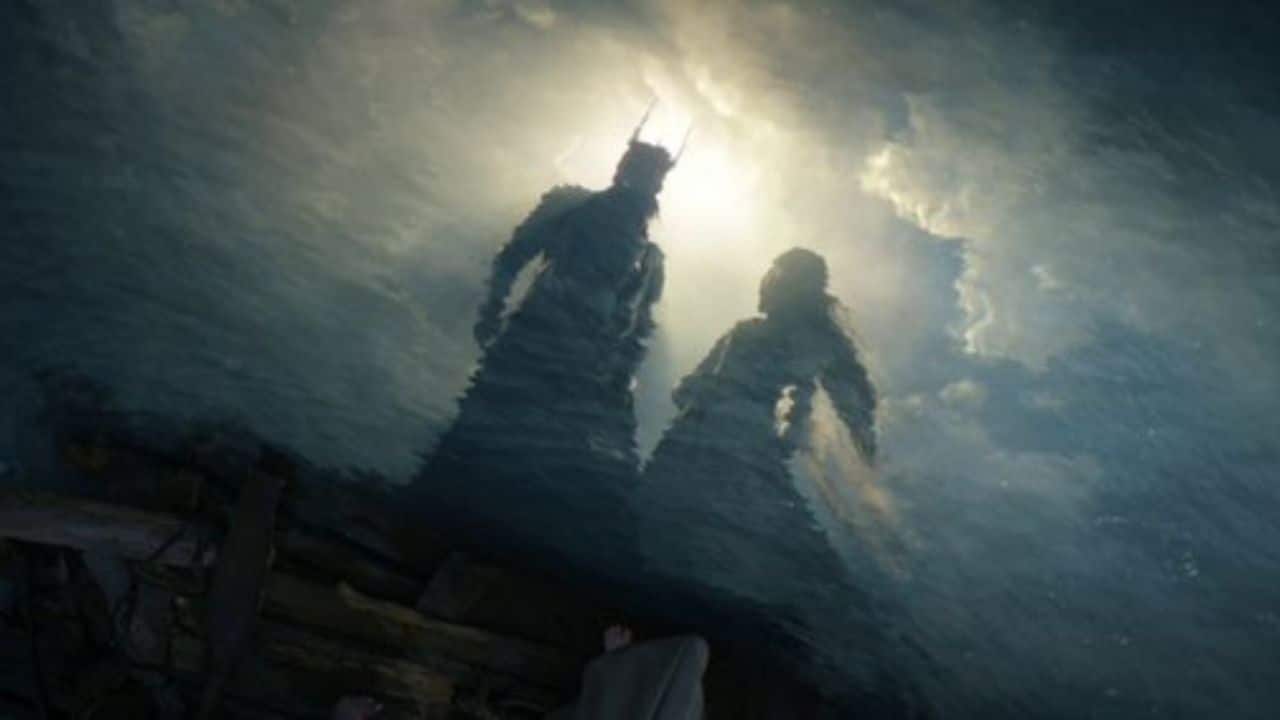 Deadline recently spoke to several members of the cast, and there are some plot points from The Rings of Power Season 2 we can guess from those comments. So let's get into speculation mode shall we? Obviously we know the rough story as it was laid out in Tolkien's mythology. However, that does not really help us with Rings of Power too much as it has deviated quite a bit already from that mythology.
One of the deviations is the order the Rings of Power were made. In the mythology, the Seven and the Nine were created first by Celebrimbor and Annatar (Sauron in disguise). Then, when Sauron went to craft the One in Mount Doom, Celebrimbor made the Three without Sauron's direct aid.
However, in the show, the Three were made first by Celebrimbor with Sauron's aid. Given such a fundamental change it's tricky to predict what comes next? One thing we've heard already is that there will be more Rings in Season 2. I would guess that the forging of the Seven and the Nine will happen in this next Season. The latest comments appear to indicate that is correct and that one character in particular will receive one.
Galadriel and the Three
First however, let's look at the comments from Galadriel actor and probably lead role in the series so far Morfydd Clark.
"She's about to have a life-changing thing happen to her. She's about to become acquainted with Nenya, her ring. It's really exciting to see how the magic creeps in. When we finished Season 1, the rings were being made and we knew it was going to be a huge change for Middle Earth. [Galadriel] is going to be part of that change because she has her own ring."

"She's trying to see the light through the darkness."
Given that Galadriel is the only keeper of Nenya we know from the mythology this makes sense. Perhaps whether I would take some issue with the show is that Galadriel's character seems unlikely to be the person awarded with a Ring. She's not yet really a leader of people, and more of a warrior. This may be part of her character arc in Season 2 though, so we wait and see. The other two of the Three are very likely to be worn by Cirdan and Gil-Galad himself. In the mythology both were the original keepers, though these Rings did change hands before the main story of The Lord of the Rings. Gil-Galad's Ring passes to Elrond after his death. Cirdan upon meeting Gandalf for the first time, and knowing he came from the West, gives over keeping to him.
However, in this timeline/version, for now, it's possible that Gandalf is already here. The show gives us many clues that suggest the Stranger, whom we know to be a Maia (Angel), is actually Gandalf himself. That again does not fit with the mythology. I had hoped this was all just a tease in Season 1. That the Stranger was actually one of the Blue Wizards who in one version of events came to middle-Earth far earlier than Gandalf, Saruman and Radagast. However, the Season 1 finale line of 'always follow your nose' seems too on the (ahem) nose for anything but Gandalf. Either way, with Cirdan being added to the cast in Season 2, it looks like he, Gil-Galad and Galadriel will be the keepers of the Three as they should be at this point.
Poor Durin
However, one character is very likely getting one of the newly forged Season 2 Rings. Here is what King Durin II actor Peter Mullan had to say to Deadline.
"There are more rings; the show is called The Rings of Power. Maybe I'll be getting a new necklace, who knows?" cheeky Peter Mullan, who portrays King Durin III in the series, teased.

Though tight-lipped about the King's accessories, he confirmed his character's relationship with his son, Prince Durin (Owain Arthur), "gets very problematic."

He shared cryptically, "My guy goes through some things that change him. So his son is reacting to a very different father; he's not the father that you see. He's someone else."
This is where we have to move away fro the mythology again. Was it highly likely that King Durin had one of the Seven during the Second Age? Yes, 100%, but this is where the time compression starts to cause an issue. You see there is no corrupting influence upon the Seven or the Nine (that we know of) until Sauron creates the One. Ergo, if King Durin receives an early gift of a Ring of Power, it should actually aid him to begin with. Annoyingly though, in the mythology the Dwarves don't get the Seven until after Sauron has created the One, and made war upon the Elves to retrieve the Seven and the Nine for himself. It was only then Sauron (in disguise) gifts them to Seven Dwarf Lords and Nine Kings of Men.
Thousands of years separate the two events. Yet, this show has to find a way to make that all fit. My worry is not that there will be changes, that is inevitable. Instead my concern is in where those changes will be made. If the show for example decides to have the Ring negatively influence Durin before Sauron has the One, then I'll be annoyed. Instead of switching the show around, this would then be a case of shifting the mythology to suit the show. That is something I struggle with in this mythology of which I am such a fan. Sadly, I have to predict this will be the case because Season 1 made several unnecessary lore changes, like the mithril origin, already.
Other Comments
Here is what Arondir actor Ismael Cruz Córdova had to say. Warning, it tells us absolutely nothing, so he probably did best here as far as the studio are concerned.
"We were in a time of relative peace in Season 1 and all that gets shaken up. Now we're dealing with the aftermath of this big evil that is now concrete. We got the guy now; Sauron is here. In Season 2, we're grappling with that," Cruz Córdova said. "These characters are grappling with their elvish-ness or their dwarf-ness, with their humanity and their loves. What you're going to see is the depth of our reality and how it is expressed. That's where it all takes off."
Yeah, no idea what Arondir will do as he's a show only character. I actually liked him, far more than his love interest as a character. However, surely he can't have that pivotal a role in the larger events?
Here is what another show only character had to say, Sophia Nomvete who plays Disa.
"There was real excitement last season because everything felt so new and I was like a rabbit in the headlights. In Season 2, I felt like I wore the backpack of my experiences. Disa was already built and she was there with me and there was this sheer excitement to delve into this new story," she shared.

Nomvete added, "Season 2 was about me walking in with more strength and more confidence than I had before. I hope it pays off."
I liked Disa, and I also think the character could have a darker side to her under competent writers. Whether those are the people writing Season 2 of this show remains to be seen.
Her husband Owain Arthur teased some more Elrond and Durin bromance in Season 2. Since those scenes were the best part of Season 1 by a margin, it was always likely to happen. Hopefully the show keeps me engaged enough to get to the heartbreak in later seasons that both of these will go through.
"What I like about Elrond is that he's quite similar to Durin in that they're different from where they come from. Elrond is half human and Durin thinks outside of the box. Going against his father's word in the first season was massive for Durin, he did that for Elrond, for the greater good and for the elves. That bond and that looking outside of the box and looking away from their own culture is what holds them together. I feel like they've got a plan to make the world a better place."
Yeah, I have a feeling whatever plan they have to make the word a better place is going to go belly up. I'm sure I spoil absolutely nothing by mentioning that this story needs to end in tragedy. You know, in order to get to the place where the story of the Hobbit begins. To then be followed up by the main story of The Lord of the Rings. That tragedy however is smattered with heroism, hope, and good triumphing over evil. It's ultimately not a truly happy ending though, as that comes several thousand years later.
So, those are the plot points we can guess form The Rings of Power Season 2. What do you think of the comments by the cast, are you tuning in for Season 2, or were you not a fan of Season 1? Thoughts below as always.

Have you checked out
LRM Online
's official podcast feed yet
The Genreverse Podcast Network
? This includes our premiere podcast
The Daily CoG
, 
Breaking Geek Radio: The Podcast
,
GeekScholars Movie News
,
Nerd Flix & Chill
,
Marvel Multiverse Mondays
,
Anime-Versal Review Podcast
, and our Star Wars dedicated podcast 
The Cantina
. Check it out by listening below. It's also available on all your favorite podcast apps!
Subscribe on:
Apple Podcasts
| 
Spotify
 | 
SoundCloud
|
Stitcher
|
Google Play