Welcome to the July edition of LRM's Retro-Specs! We all know that 90s continues the 80s boom of toys, comics and cartoons. While the Saturday morning and after school cartoons are still thriving during the 90s, there are other numerous one-shots. There are so many gems that often get lost in the mix of the heavy hitters in the 80s and 90s cartoon world. One of those gives sports fans an extra boost. Although it is short-lived, it gives us another chance to see our icons. Let's take a look back at Pro Stars!
Combining Athletic Icons and Animation
If you are a sports fan, you probably had one of three athletes on a poster on your wall, or card in your collection: Bo Jackson, Michael Jordan, and Wayne Gretzky. The athletic icons of the 80s and 90s get their own animation debut in 1991. Also, they take their show to prime time viewing.
It was great being able to see your favorite athletes dominate in their sport then tune in to NBC on Saturday mornings and see them as cartoons. It is originally planned to play on ESPN, however NBC picks it up for their Saturday morning cartoon lineup. 
You have to remember that this is a time when all three athletes are at a peak in their popularity. Jordan is one of the most recognizable athletes in the world. Wayne Gretzky makes the big move to the LA Kings when the popularity of hockey is increasing. And we all know that "Bo Knows" just about everything! Especially since he excels in two professional sports! One would think that this is the best time for an idea like Pro Stars. Right?
Pro Stars Recap
In typical 80s/90s cartoon fashion, Pro Stars fits the usual mold. Each episode consists of an antagonist taking something and the three athletic heroes save the day. Of course, all while teaching a valuable life lesson (more on that later). 
Each athlete has their own set of unique qualities. These traits combine with their use of sports-centric gadgets. Basketball satellite, hockey stick homing device, and baseball grappling hook, you name it. The headquarters is at "Mom's Gym". She creates their sports gadgets. Other characters are Denise, who helps introduce the weaponry, and The Neighbor. That's right: The Neighbor. 
Of course the team works together to show that teamwork always prevails! So, who were the villains? Well, they are pretty cliché or over the top in typical 80s/90s fashion. Most of the villains are primarily used to teach the overarching moral of the show. They are the usual "stay in school" and "don't do drugs" themes. Michael Jordan speaks about Pro Stars in 1991 to the LA Times expressing:
"[ProStars] is always going to be a positive message, like staying in school, staying away from drugs and the other things that are bothering our youth today."
Well, it looks like we could still use the good ol 'Pro Stars today.
Villains
Some of the villains who helped the Pro Stars promote these ideas through their capture include Dr. Lobe. He has robots who kidnapped a child at one point who needs saving. Next, there is Captain Nemo who wants to destroy a rainforest. Also, Clockwork Delaronge tries to steal the Stanley Cup.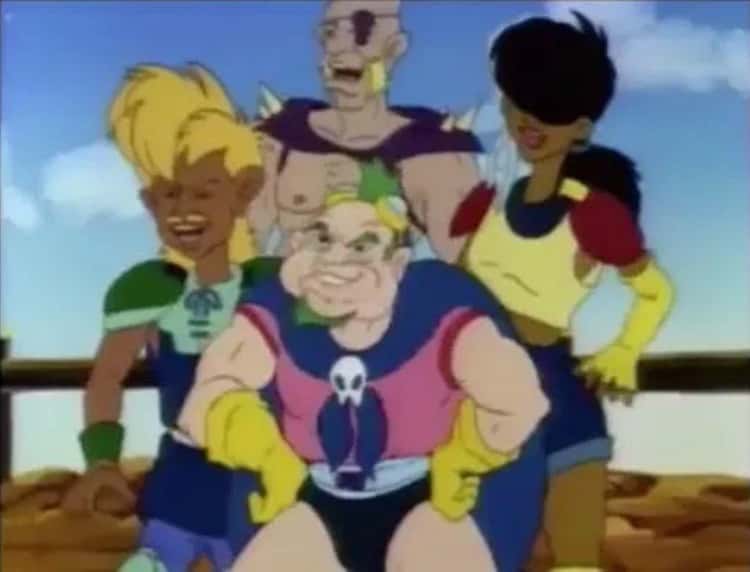 We cannot forget a wild, Australian biker gang. For as outlandish as the villains and gimmicks are, the main purpose, again, is for the athletic icons to send a message to the youth. 
Awesome Episode Segments
The best part of the show is the introduction. At the beginning of each show the athletes would talk a little bit too each other. Although, they are actually filmed in different studios and edited together to look like they were speaking to each other. It is mainly Bo Jackson and Wayne Gretzky sans MJ. However, it is a cool time when kids could write in with questions to their heroes, and they would answer them. 
Although this seems like a recipe for success, it is not so. It seems to have potential, but what went wrong?
What Was Its Downfall?
Even though Pro Stars is a definite gem to look back on, it has its issues. To start, the animation doesn't look anything like the actual athletes. Individuals can vaguely tell it's their daytime heroes. 
The other issue is that the characters didn't exactly fit their personalities. Instead they are made to fit archetypal roles. MJ is the brains and leader of the group. Bo Jackson is the strength (you can tell by his enormous traps). While Gretzky is the comic relief who constantly made references to food and needing to eat. I guess from all the skating? 
Also, some of the plots may have been a bit too cliché or far-fetched. It looked like two worlds were trying to be crammed together rather than intentionally thought through.
These issues leads to only the 13 episodes from September of 1991 to January of 1992. Unfortunately, not enough time to get any major tie-ins, toys, comic books, cereal. The usual.
While it may not have been what we hoped for, Pro Stars definitely paved the way for MJ's Space Jam and LJ's sequel. Could such a cartoon make it today? I guess we will have to wait and see. For now, we can look back fondly on the gem that almost made it, Pro Stars.
Do you remember Pro Stars? Are you a fan? Why don't you think it lasted? If you were to make a Pro Stars today, who would you have involved and why? Leave your thoughts in the usual spot, and thanks for reading!
Sources: ReelRunDown, CheatSheet, Ranker, DHX (via tumblr)

Have you checked out
LRM Online
's official podcast feed yet
The Genreverse Podcast Network
? This includes our premiere podcast
The Daily CoG
, 
Breaking Geek Radio: The Podcast
,
GeekScholars Movie News
,
Nerd Flix & Chill
,
Marvel Multiverse Mondays
,
Anime-Versal Review Podcast
, and our Star Wars dedicated podcast 
The Cantina
. Check it out by listening below. It's also available on all your favorite podcast apps!
Subscribe on:
Apple Podcasts
| 
Spotify
 | 
SoundCloud
|
Stitcher
|
Google Play