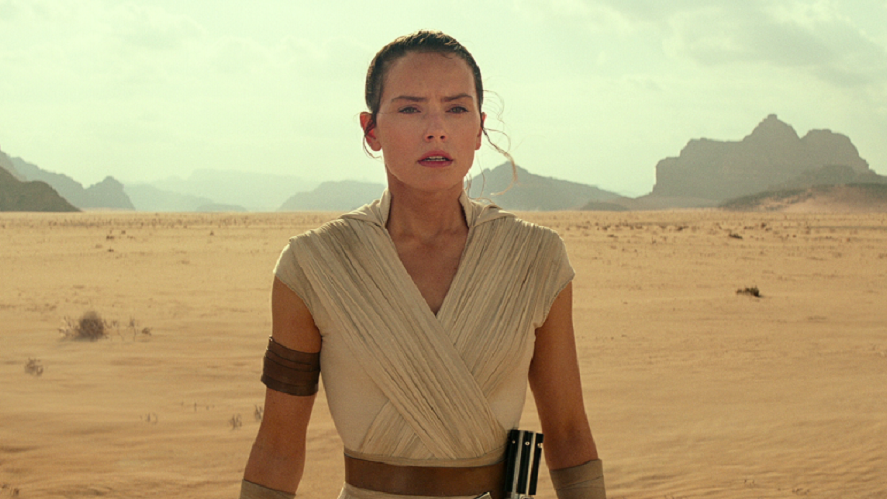 Rey's backstory changed for each Star Wars movie? You don't say, we never could have guessed that eh? Sigh. My thoughts on the Star Wars sequel trilogy are pretty well known around here. I find the whole trilogy awful, and have no desire to ever watch it again. For me, there was no plan, instead using a 'choose your own adventure' approach for each movie. For this fan, the lack of a plan was clearly evident between each of the three movies. My really big issue with this, was that Disney had no plan how the Skywalker Saga was going to end when they decided to make the movies. That's a mistake Disney can never erase.
Now we have even more evidence of this lack of a plan for Star Wars. Daisey Ridley last night appeared in her first interview since The Rise of Skywalker on Jimmy Kimmel Live (virtual) with guest host Josh Gad, a personal friend of Ridley's. You can catch the video below, or skip and keep reading what Ridley had to say.
In the interview Ridley confirms that the plan for Rey's backstory changed in each movie. Back in The Force Awakens, she thought she was a descendant of Obi-Wan Kenobi. Many fans predicted this was a possible path for Rey's story when that movie came out. Then, Ridley says the plan was for Rey to be no-one special (The Last Jedi). Finally, she only found out about the connection to Palpatine from J.J. Abrams whilst filming The Rise of Skywalker. Ridley even says the Palpatine connection wasn't completely set in stone until part way through filming when the decision was finally made.
This will come as no surprise to fans. It was pretty obvious that the plan for Rey was changing with each movie. Obi-Wan's granddaughter, to daughter of two drunks, to granddaughter of Palpatine. I'm not going to offer an analysis of which of these was the best idea, because frankly I don't like any of them. Either way, these comments from Ridley are simply more evidence that Disney had no idea what they were doing when they pushed ahead with a Star Wars sequel trilogy.
I'm not saying that Luacsfilm had to have three scripts ready at the start, but there are some decisions which should have been made early on. Who is Rey and why is she so strong? Where did Snoke come from and what's his goal? And finally, what would happen to Ben Solo in the end? I think if they had decided on those answers, and determined they had to stay in place, then the rest of the story would have been easier to navigate around. I guess that's what happens when you hire J.J Abrams? I'm not a fan of his, never have been, and I didn't want him anywhere near Star Wars, but here we are.
What do you think of the news Rey's backstory changed for each Star Wars movie? Share your thoughts below as always.
Continue the LRM Online conversation on Discord by CLICKING HERE!
—–
Have you checked out LRM Online's official podcast feed yet The LRM Online Podcast Network? This includes our flagship podcast Los Fanboys, our premiere podcast Breaking Geek Radio: The Podcast, GeekScholars Movie News, and our morning show LRMornings. Check it out by listening below. It's also available on all your favorite podcast apps!
Subscribe on: Apple Podcasts |  Spotify |  SoundCloud | Stitcher | Google Play
SOURCE: Jimmy Kimmel Live 
Have you checked out
LRM Online
's official podcast feed yet
The Genreverse Podcast Network
? This includes our premiere podcast
The Daily CoG
, 
Breaking Geek Radio: The Podcast
,
GeekScholars Movie News
,
Nerd Flix & Chill
,
Marvel Multiverse Mondays
,
Anime-Versal Review Podcast
, and our Star Wars dedicated podcast 
The Cantina
. Check it out by listening below. It's also available on all your favorite podcast apps!
Subscribe on:
Apple Podcasts
| 
Spotify
 | 
SoundCloud
|
Stitcher
|
Google Play