The Rings of Power Episode 8 review. What someone thinks of Episode 8 will depend on their point of view, I'll explain more below. This review will cover Episode 8 of The Rings of Power, called 'Alloyed'. As for SPOILER policy? I'll keep as SPOILER FREE as I possibly can in my initial reaction below. However after that to really discuss my thoughts I need to get into some major SPOILERS, so there will be a warning and a jump.
Bit of background. I'm a fairly big Tolkienite, and have read pretty much everything he wrote many times. Yet, there are still some out there who far outstrip my own knowledge. I came at this show with trepidation because ultimately this is a fan fiction project. Okay, it's licensed by the Tolkien Estate and there are some rules as we understand. However this is still largely fan fiction. So was it any good?
Points of View?
What kind of fan are you? Are you the kind of fan who watched The Lord of the Rings movies a couple time, thought the Hobbit wasn't as good, but it was alright? Have you never read the books and never will? If so, then I really don't think you could have too much complaint about this season as a whole and the finale in question.
Or, maybe you're someone who thinks of themselves as a fan of this Universe, but you're not too caught up in the details and whether they match? Again I think you're likely going to enjoy the finale and the season as a whole.
Now, maybe instead you are someone, like me, who has read everything many times and likes to discuss the specifics with other nerds online? If so, then it kinda depends. Can you separate the texts from the show, and just enjoy the visual quality and accept this is really it's own story? More like a fan fiction version than a true adaptation in all honesty. Well if you can, again I think you may well be okay with this.
There are of course going to those who see some changes to the lore here which they just cannot get their head around. Probably because there are some good ideas here, with some questionable lore decisions sacrificed for the story they want to tell. Well, that is kinda where I fall and I therefore struggle with a lot this week. It's really all lore issues and the fact that if you really start to think too hard about the plot, and everyone's motivations, it gets very messy for me
Any Good?
I will say right now that I really enjoyed some of the scenes and how they were shot. The acting was great, and visuals as always phenomenal. It's not that I have an issue with the script itself this week, it's more like I have an issue with the entire first Season pitch and that it was not executed well enough.
The Harfoot scenes were excellent, again if I don't think too hard about what I'm seeing. As for the second and bigger plot of this finale? Again, if I don't think too hard, I can sort of enjoy what I'm seeing. However after it's over, I do start thinking back about the season as a whole and there are a lot of holes in the story, and some strange changes to lore, I don't quite understand.
I won't discuss any of the mysteries till I get below. Other than I will say that they were all a bit obvious, yet handled very well.
However It needs to be SPOILER time folks, so beware.
Specifics (Beware SPOILERS)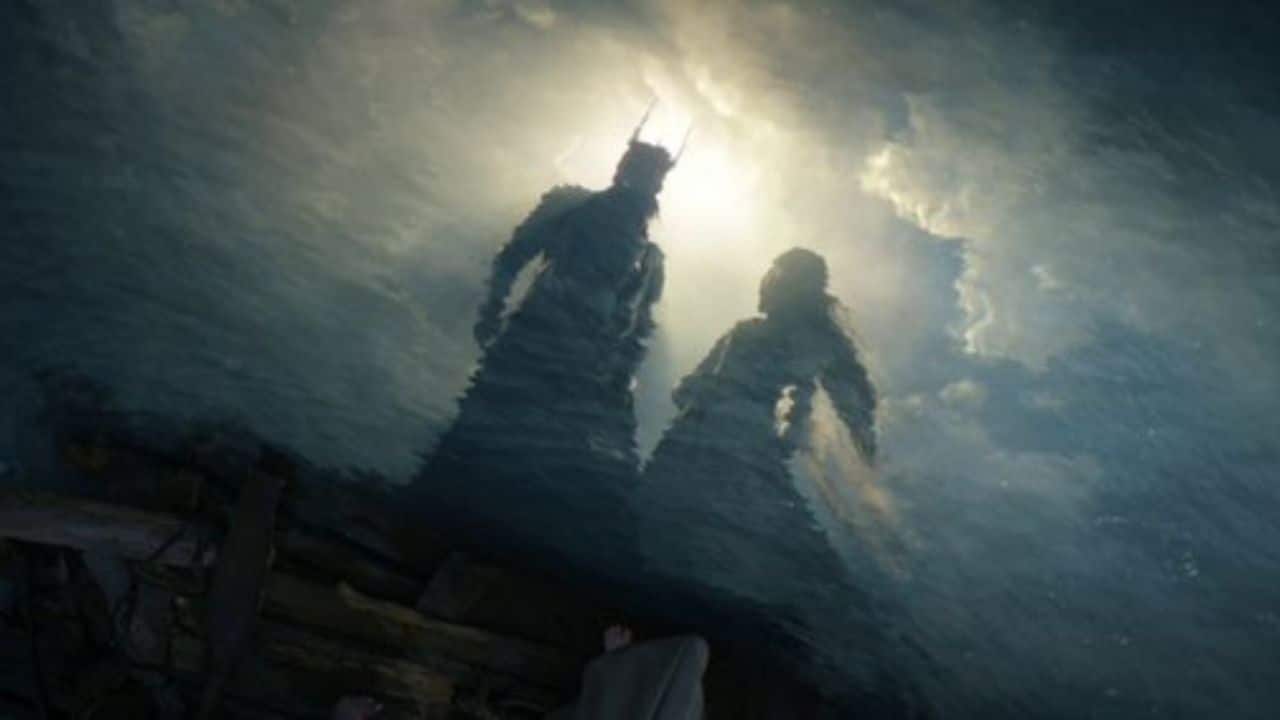 …
..
*****************************************************************
Just to be clear, if you didn't spot the subtitle above, I am talking SPOILERS for The Rings of Power Episode 8 here. Plus I'll be referring to some lore which carries into the future of this story.
******************************************************************
I'll just fire straight into some of the lore issues and therefore plot issues I had.
Sauron
This one seems obvious as every week I've been saying the show is trying to make us think Halbrand is Sauron, yet I hope he is not. Well, he was. I actually enjoyed the reveal, and I enjoyed seeing Charlie Vickers switch. I actually think he will be a good Sauron, though I feel like (no offence) Sauron would have made himself look fairer rather than rugged handsome. Anyhoo…
Here's my issue. Sauron is Maia, which if you're not up in the lore makes him like an Angel. His 'true' form is non-corporeal, though he could at times clothe himself in a body fro the design of his thought. In other words he is a shapeshifter. Now We can't say how easy or tricky it is to move between bodies and back to spirit form, but it would take some effort I think.  Oh, and that the writers made it really obvious that either Halbrand or the Stranger was supposed to be Sauron. I just hoped they were more creative than that.
I there struggle to imagine why the hell Halbrand/Sauron was on a boat with random mortal humans at the start. Where was he going, and why didn't he just leave his body and fly there? If Sauron needed time to think after he was 'killed' by Adar, then why create another body and go on a boat ride. Equally, why not leave said body when the boat falls, before Galadriel turned up?
What the writers are making clear is that Sauron was repentant still and actually did want to just chill in Numenor seemingly. However that did not appear to be his destination to begin with. Plus if he was really repentant and just wanted to chill forever, why not just go back to Valinor, say sorry and do your time. Tolkien said of Sauron that he was scared of the punishment he would get and figured he'd just skip that part and hang back in Middle-earth.
See, if you think too hard it starts to unravel.
Gandalf, Probably
Okay, we don't know it's Gandalf, I denied it and I somehow still hold onto some hope it will be revealed the Stranger is not Gandalf in Season 2. However that line about always following your nose was a clear hint whatever way you look at it. A couple episode ago, I might have still though the writers were smart enough to switch the obvious expectation and make him a Blue Wizard instead. However that was also my hope for Sauron, so I'm not confident.
So where is my issue. Well Gandalf never came back as an Istari until the Third Age and he was given one of the Three Elven Rings upon arrival by boat. Secondly here is a quote from Gandalf from the books, where he explains what peoples call him in various locations. ", to the East I go not." And guess where Stranger is going, East to Rhun, which Gandalf never visited as an Istari, but the Blue Wizards did. But, you know, Gandalf go brrr, so cool.
I also have an issue with the ascetics, or the three folks in white. What are they? Sauron never had other Maiar working under him, and if they were Maiar, then fGandalf would not have a chance (IMO) as he's severely limited. They are not Istari, unless the show made that up from scratch. Elves don't have that kind of power and nether do any men at this point. Also when they were destroyed they looked wraith like, which is too soon, because the Rings haven't been created yet. Only thing I can think of that would make sense is that we see flashbacks in Season 2 that Sauron created them through some experimentation prior to the events of Season 1.
The Rings
The whole magic properties of mithril thing doesn't sit right with me. So the legend was actually true and not a deception of Sauron. Why the hell are the Elves fading so fast? Clearly this has been jammed up to crazy levels just to give the Elves some haste in their actions. So all this ever was was a reason to have the Elves desperate at the start of the show. I just can't see why the Elves really are fading so fats, it makes no sense.
Now as for the order the Rings were made, the show has reversed it all. In the lore, Sauron in disguise (check) and Celebrimbor (check) make the first 16 Rings together. The Seven for the Dwarves and the Nine for Men. Then, Sauron and Brimby part ways and this is when Brimby makes the Three without any help from Sauron, which is an important point. In the same period Sauron crafts the One in Mount Doom. Sauron knows not about the Three util he wears the One and the same with the Elves knowing about the One.
This is why the Three still work as long as Sauron doesn't have the One Ring. They also cannot be used at all the whole rest of the Second Age as Sauron has the One right up until The Last Alliance. I can only assume either Sauron makes the Seven and the Nine himself in Season 2, or Sauron comes back to Celebrimbor in another guise and helps him make the other 16. I'm just not sure I get why this change was made?
I was hoping we already find Sauron in Eregion working with Celebrimbor and the first 16 Rings are already forged. Then he could head for Mount Doom whilst Celebrimbor makes the Three. But hey ho?
Ultimately for me it's just hard to understand some of the lore changes happening,, or to really gave them a chance. The showrunners have said Season 2 will explore Sauron more. Perhaps if we do get flashbacks it may explain some of these factors, but not all of them.
Final Thoughts
Ultimately this is pure fan fiction, but I would not say it's necessarily bad fan fiction, depending on your point of view. It's tough for me though, and I think to myself, maybe it's best to just stick to the books. Will I be back for Season 2 of The Rings of Power? I'm not sure yet. Morbid curiosity will likely see me watch, and I guess someone has to review the show. But am I the best person to do that when I no have a strong bias against it?
At Episode 4 I loved this show and through the showrunners got it. However I cannot share that view any longer, and that's purely subjective. I will now watch it with the view of it being crazy fan fiction that ignores the lore and that's a shame. I didn't expect a super faithful adaptation because I'm not sure it is possible. Not enough material. However there are also choices made here to present the story very differently to how Tolkien imagined it and I'm not sure I like them for now.
I'll try to give two grades, one with my bias and one without.
If you're not fussy about the lore like I am.
GRADE: B
If you feel more like me?
GRADE: C
Please leave your own The Rings of Power Episode 8 review below if you can. Or, let me know what you think of my own The Rings of Power Episode 8 review ? Do you agree with me, or disagree after watching the show? Let us know below.

Have you checked out
LRM Online
's official podcast feed yet
The Genreverse Podcast Network
? This includes our premiere podcast
The Daily CoG
, 
Breaking Geek Radio: The Podcast
,
GeekScholars Movie News
,
Nerd Flix & Chill
,
Marvel Multiverse Mondays
,
Anime-Versal Review Podcast
, and our Star Wars dedicated podcast 
The Cantina
. Check it out by listening below. It's also available on all your favorite podcast apps!
Subscribe on:
Apple Podcasts
| 
Spotify
 | 
SoundCloud
|
Stitcher
|
Google Play