Getting back to my comic roots, I've decided to start a weekly review of what I believe are the best three comic books of the week. You can think of this as a pull list if you want to help decide what to get out of the multitude of options each week. Since Comixology, unfortunately, removed theirs I've been looking for a site that would fill the void. So my hopes are that this will help fill that void even if it's only a small presence. Or perhaps this will simply act as a piece of brief information on the current landscape and debriefing of the comic landscape. Hopefully, this will launch a discussion page for what the LRM audience feels about each week's comics growing the presence of the medium on the site. For the tentative breakdown, there will be one review from Marvel's and DC's listing with another deemed best of the rest which can either be from the lower tier publishers or second comic reviewed from Marvel or DC. So now that the formalities are over with let's flip the page.
Marvel
Title: Captain Marvel (2019) #1
Written By: Kelly Thompson
Art By: Carmen Carnero, Tamra Bonvillain
Cover Artist: Amanda Conner, Paul Mounts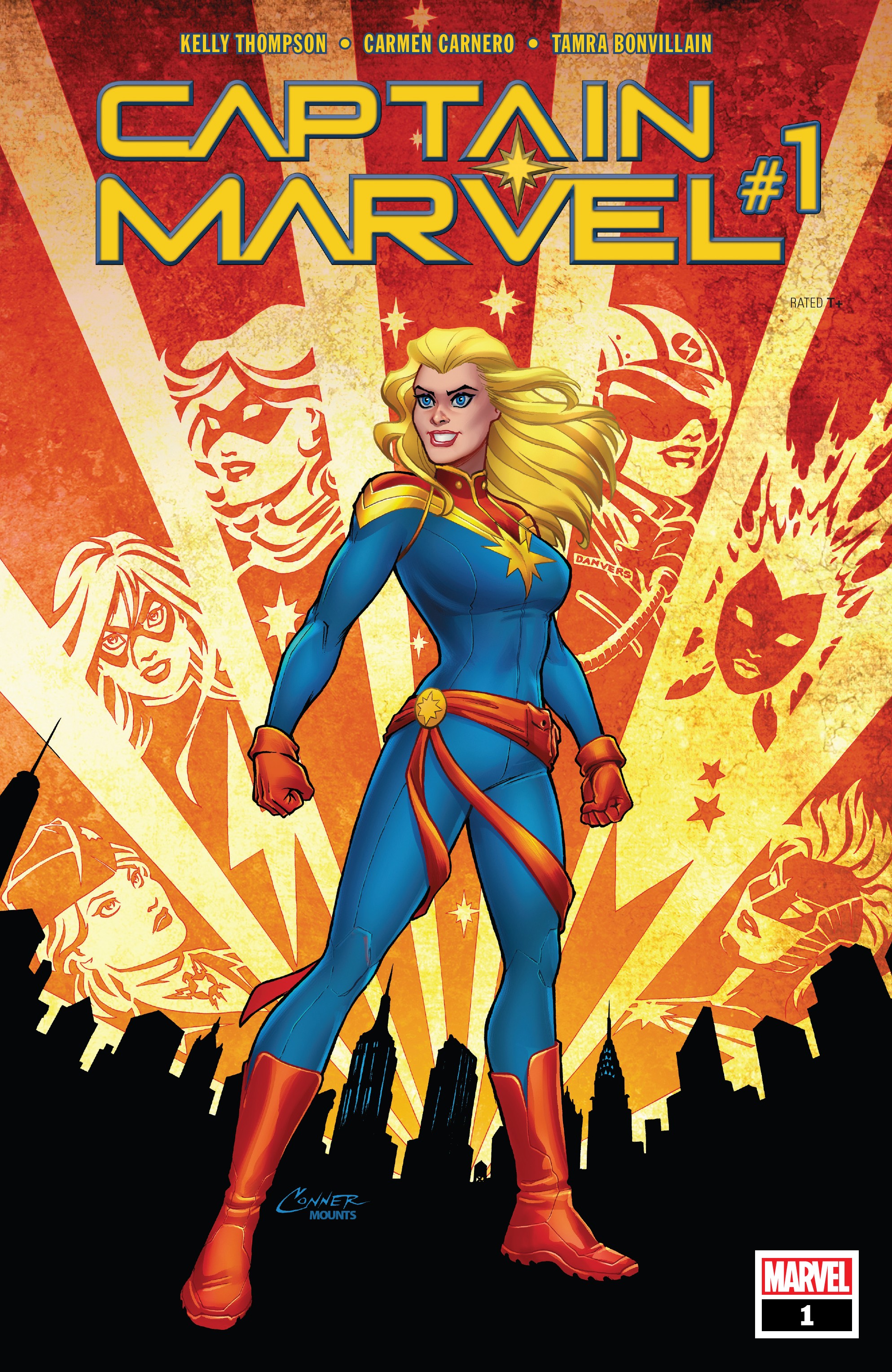 Marvel is gearing up for their next feature film in the MCU. With that, a brand new series is reworking Captain Marvel and giving her a literal PR lift. The character has decreased in popularity after the events of Civil War II where she was pitted against Iron Man. Along the way, the character has been slightly retconned with her powers being half-Kree rather than inheriting it from Mar-Vell. It appears that this is what Marvel is trending towards in her movie rather than the original origin.
Captain Marvel has a challenging family situation with her mother being killed and brother experiencing a life-altering injury. With all of this building stress, Captain Marvel decides to step down from her space post with Alpha Flight and return to Earth. After fighting a Kraken with Spider-Woman, Danvers meets with Tony Stark who sets up a reporter to humanize the character. She also meets up with Rhodey who begin their relationship where they last left off. Facing the D-list villain Nuclear Man, Mahkizmo, she gets transported into an alternate dimension after Nuclear Man takes the female report hostage.
This issue is rebuilding Carol Danvers after she took a negative impact at the hands of Civil War II. Seeing this character restore the relationships with Spider-Woman and Rhodey humanizes the character. Restoring the relationship with Rhodey is important as his death and rebirth have been impactful in Captin Marvel's backstory. Pulling Mahkizmo out of the catacombs of Marvel was a fantastic touch by Thompson as his chauvinist attitude juxtaposes the female empowerment theme of this series.
The art is fantastic as Carnero's line work is complemented by Bonvillain's coloring. There is a sleek aesthetic to this issue as the colors are vibrant which are restrained by varying line thicknesses. If this continues this series will be a great addition to the weekly list.
Rating: 9.0/10
DC
Title: Young Justice (2019) #1
Written By: Brian Michael Bendis
Art By: Patrick Gleason, Alejandro Sanchez
Cover Artist: Patrick Gleason, Alejandro Sanchez
Fans have been asking for the return of Young Justice and DC is responding in a big way. Aside from the cartoon series being added to DC Universe DC is putting a talented creative team around this series. As you would expect from a Young Justice series this is chaotic, fast-paced, and has tons of quirks.
An impromptu meetup among young crime fighters Amethyst, Impulse, Tim Drake, Teen Lantern, Wonder Girl leads to the reformation of Young Justice. Fighting against Amethyst's home dimension of Gemworld is an interesting gateway to bring the character into the group. Bringing back Superboy at the end of the issue is always a welcomed site as he his a vital member of the team.
This issue is a hectic introduction to the imprint of Wonder Comics and the reintroduction of Young Justice. Bendis spends the majority of this issue focusing on the introduction of the characters and their quirky personalities. With this, the story is lacking as it has a limited plot relying on the characters bouncing off each other. In the first issue, it should give readers enough of a hook to continue reading while concealing enough to remain a mystery going forward.
The art is interesting as the background of the panel featuring individual characters reflects the theme of the characters. Impulse is featured with vibrant colors, Hex is surrounded by earthy tones, and Drake being dipped in brooding red. Gleason and Sanchez make a great team providing solid art through each panel.
Rating: 9.0/10
Best Of The Rest
Title: Criminal (2019) #1 (Image)
Written By: Anne Toole
Art By: Sean Phillips, Jacob Phillips
Cover Artist: Sean Phillips, Jacob Phillips
Easily the overlooked release this week to casual readers of comic books. Criminal is a long-running crime-themed comic series by Ed Brubaker and Sean Phillips. Switching from Marvel the last run was published by Image which is associated with a history of creator-owned work.
Having stolen a necklace for bail money for his father, Teeg, Rick creates a larger problem in the long run. Teeg is now left in debt due to the actions of his son and has little time to pay off his debts. On the way to accumulate the money needed Teeg runs in with past acquaintances and finds a possible solution.
Coming in I knew that the series existed but never read any of the volumes mainly due to the sporadic release dates from volume to volume. New readers will be able to follow along though there are some moments that knowing the series would help give the story more context. This compromise between attracting new readers and providing a new material in canon pays off in an interesting first issue.
The art provides a gritty noir feel with rough sketches instead crisp art. While the art values mood setting more than a defined style it works in this series. Personally, I prefer more of a rigidly defined art style so I was slightly put off by this though it is a personal preference that readers should decide for themselves.
Rating: 8.5/10
Let us know your thoughts. What do you think is the best comic of the week?

Have you checked out
LRM Online
's official podcast feed yet
The Genreverse Podcast Network
? This includes our premiere podcast
The Daily CoG
, 
Breaking Geek Radio: The Podcast
,
GeekScholars Movie News
,
Nerd Flix & Chill
,
Marvel Multiverse Mondays
,
Anime-Versal Review Podcast
, and our Star Wars dedicated podcast 
The Cantina
. Check it out by listening below. It's also available on all your favorite podcast apps!
Subscribe on:
Apple Podcasts
| 
Spotify
 | 
SoundCloud
|
Stitcher
|
Google Play