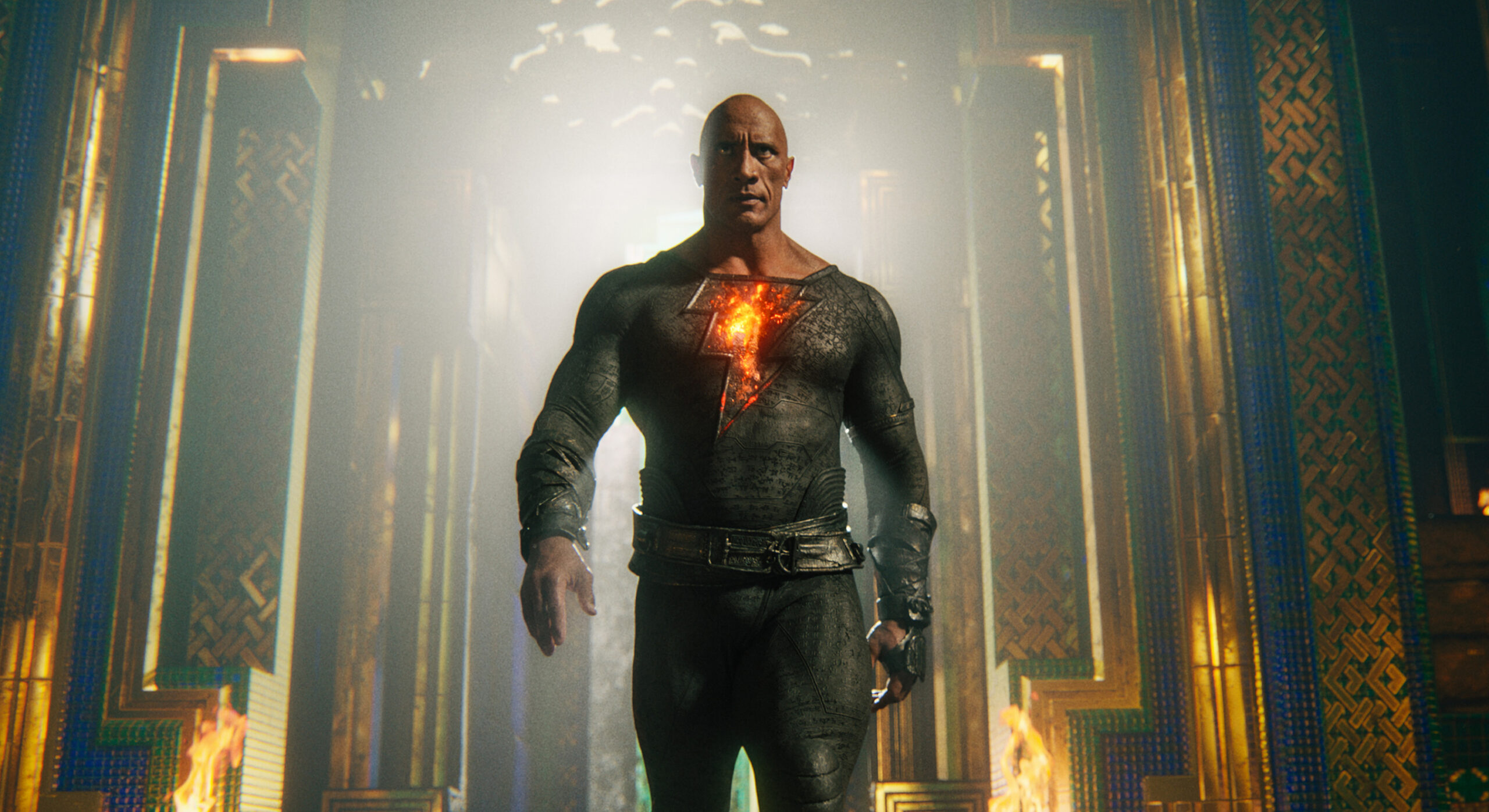 This image released by Warner Bros. Pictures shows Dwayne Johnson in a scene from "Black Adam." (Warner Bros. Pictures via AP)
The latest rumor on the whole Rock/ Black Adam news is that Dwayne Johnson rejected the chance to cameo in The Flash prior to Gunn and Saffran's decision to reboot. Of course now we know there are currently no plans for Johnson to play Black Adam anytime soon in the new DCU. However DC insider Umberto Gonzalez now says he's heard an interesting story about Johnson. According to Umberto, Johnson's management team were offered the chance for him to have a cameo in The Flash, to which they politely declined. Check it out.
One last #BlackAdam nugget, according to my sourcing, way back when #TheFlashMovie was originally shooting, 7 Bucks Production President Hiram Garcia was asked if Dwayne can do a cameo as Black Adam in the movie, however Garcia "politely declined"

(Banner courtesy of @thedirect) pic.twitter.com/3vZOfihdxv

— Umberto Gonzalez (@elmayimbe) December 21, 2022
This comes on the back of news that Johnson also rejected a cameo appearance in Shazam: Fury of the Gods. There were rumors that Johnson, whilst he loved Black Adam, was not that into Shazam or had much desire to come up against him in a movie. Strange given these two characters intimate connection. Instead it seems Johnson made a power play for bigger control. Sadly for Johnson, those moves were left footless as DC changed up their structure from within around the same time.
First we had Johnson trumpet the fact he was the one to get Henry Cavill back as Superman. Then, after just one cameo the decision was made to seemingly reboot the entire DCU and as such Cavill is no longer playing Superman. Then in the story we covered already, Johnson released a statement basically saying he was out as Black Adam.
I've yet to see Black Adam, though I've heard mixed messages from those who have. Some enjoyed it, others struggled. Since I really struggle with poorly made movies, I can imagine where I fall. Though, that remains to be seen. I do plan to watch the movie digitally over the Holidays. However my own opinions don't really matter. The fact remains that Black Adam was expensive to make with rumors of re-shoot's taking the budget close to $260M. Sadly for the fans complaining about the changes to the DCU online, the movie just didn't make enough money. Fans did not rush to theatres and ultimately that decision has led to Black Adam's fate being what it is. Plus rumors are that the screeners did not go down well and that's the cause of the budget ballooning on reshoots.
If you want movies to succeed, go see them in theatres, because the studios are losing money. Right now they'll do what they think will make them more money, not less, so back what you love folks.
Given the impending reboot, does it really matter that Johnson rejected the chance to cameo in The Flash? Probably not, not now. However who knows what kind of effect it would have had long term? For now it seems The Flash will signal the end of the DCEU. Yes, I know Blue Beetle is due afterwards, but my guess is that movie can act like a standalone. That's not really the case for The Flash, is it?
What do you think of the news that Dwayne Johnson rejected the chance to cameo in The Flash prior to Gunn and Saffran's decision to reboot? As always, leave your thoughts below.

Have you checked out
LRM Online
's official podcast feed yet
The Genreverse Podcast Network
? This includes our premiere podcast
The Daily CoG
, 
Breaking Geek Radio: The Podcast
,
GeekScholars Movie News
,
Nerd Flix & Chill
,
Marvel Multiverse Mondays
,
Anime-Versal Review Podcast
, and our Star Wars dedicated podcast 
The Cantina
. Check it out by listening below. It's also available on all your favorite podcast apps!
Subscribe on:
Apple Podcasts
| 
Spotify
 | 
SoundCloud
|
Stitcher
|
Google Play