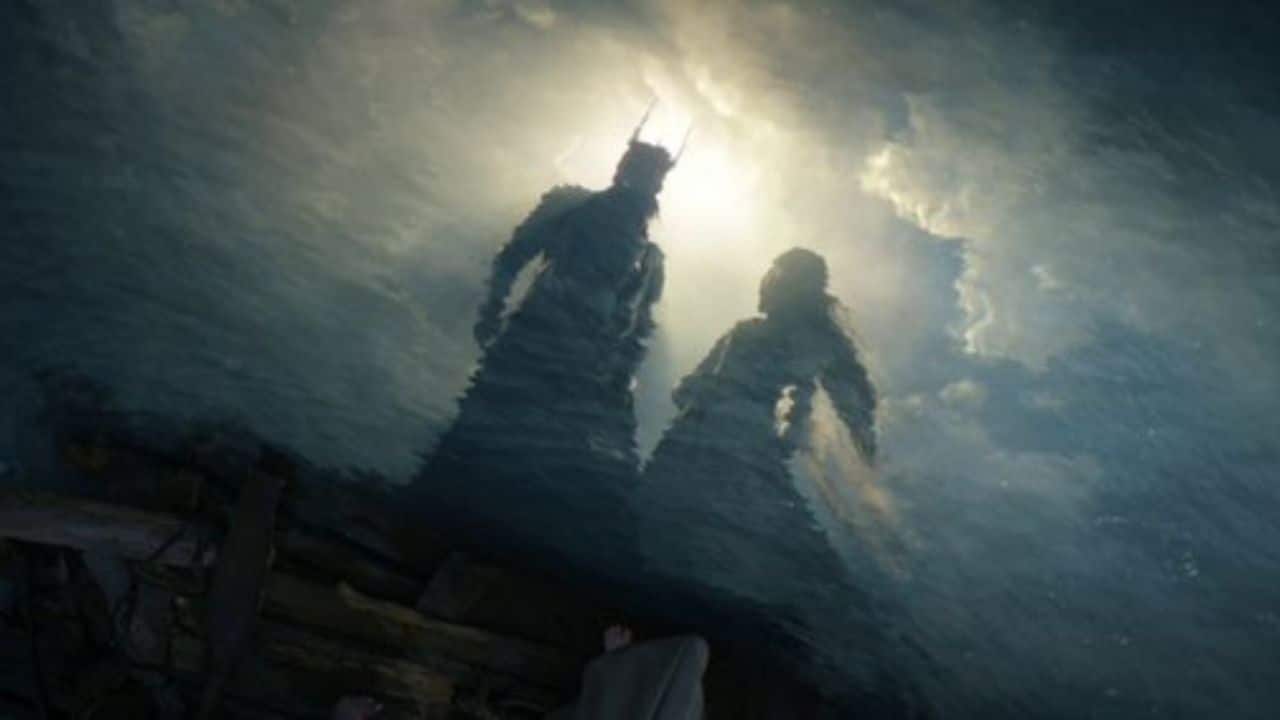 It goes without saying, there's spoilers here folks, so beware. Charlie Vickers, Sauron actor talks about that big The Rings of Power reveal in a recent interview. Vickers spoke to EW and detailed out how see see's things as his character was revealed to be a Sauron who was initially repentant of his former actions.
"It's interesting because Tolkien speaks of Sauron as repentant. He quite clearly says that he is repentant, and he is ashamed. He says it in The Silmarillion, and he says it in some notes in Morgoth's Ring. But he always puts the words 'out of fear' right after 'repentance,'" Vickers explains. "I think fear can lead one to genuine repentance, and I think he fears the gods and he fears retribution. I think Halbrand is an example of him in this repentant stage."
"Whether or not you view that repentance as genuine completely colors his actions of the season. You can look back at his actions, and they can be genuine repentance and it all makes sense. But if you look at him as manipulating everything and using Galadriel to bring him back."
"Of course, there are some coincidences that happen along the way, which play into his hands. But he is able to manipulate people," he continues. "I have a clear answer as to what worked best for me, but I like to leave it kind of ambiguous for the audience because it creates a bit of interesting discussion. It makes it cool to look back on and leave it to interpretation."
As for his quest to get Galadriel to join him, Sauron actor Charlie Vickers points out that it was not romantic.
"I don't think it's out of romance, at all. It's not a proposal. It's based on his own personal gain. He thinks he can rule more effectively with her at his side. And if she says no, by no means is it the end of the world."
"I think he is evil, and he is terrible, and in the end, he is going to be in charge by himself. Whether or not she's by his side, he'll find a way to do that. But at this time, it'll be more effective with her there."
I think that was pretty obviously Sauron's play.
"I think that's there in Halbrand. You see a lingering of this evil, and you see Halbrand slowly reforming from someone who has been humbled and is at the lowest of the low, floating on a raft in the sea, to being the king of the Southlands," Vickers says. "You see the building blocks and how it all reemerges, and that completely aligns with what Tolkien said."
I'm not so sure about that. Tolkien did talk of there being a moment when Sauron was truly repentant, when he was before Eonwe, Herald of Manwe after the capture of his Master Morgoth. However as Vickers discusses above, he was unwilling to actually face the judgement of the Valar for his actions. He was scared of being punished and so he effectively ran way where in time he went back to his evil ways.
I guess it all depends on your own point of view, or interpretation in this case.
What do you think as Charlie Vickers, Sauron actor talks about that big The Rings of Power reveal? Thoughts below as always.

Have you checked out
LRM Online
's official podcast feed yet
The Genreverse Podcast Network
? This includes our premiere podcast
The Daily CoG
, 
Breaking Geek Radio: The Podcast
,
GeekScholars Movie News
,
Nerd Flix & Chill
,
Marvel Multiverse Mondays
,
Anime-Versal Review Podcast
, and our Star Wars dedicated podcast 
The Cantina
. Check it out by listening below. It's also available on all your favorite podcast apps!
Subscribe on:
Apple Podcasts
| 
Spotify
 | 
SoundCloud
|
Stitcher
|
Google Play