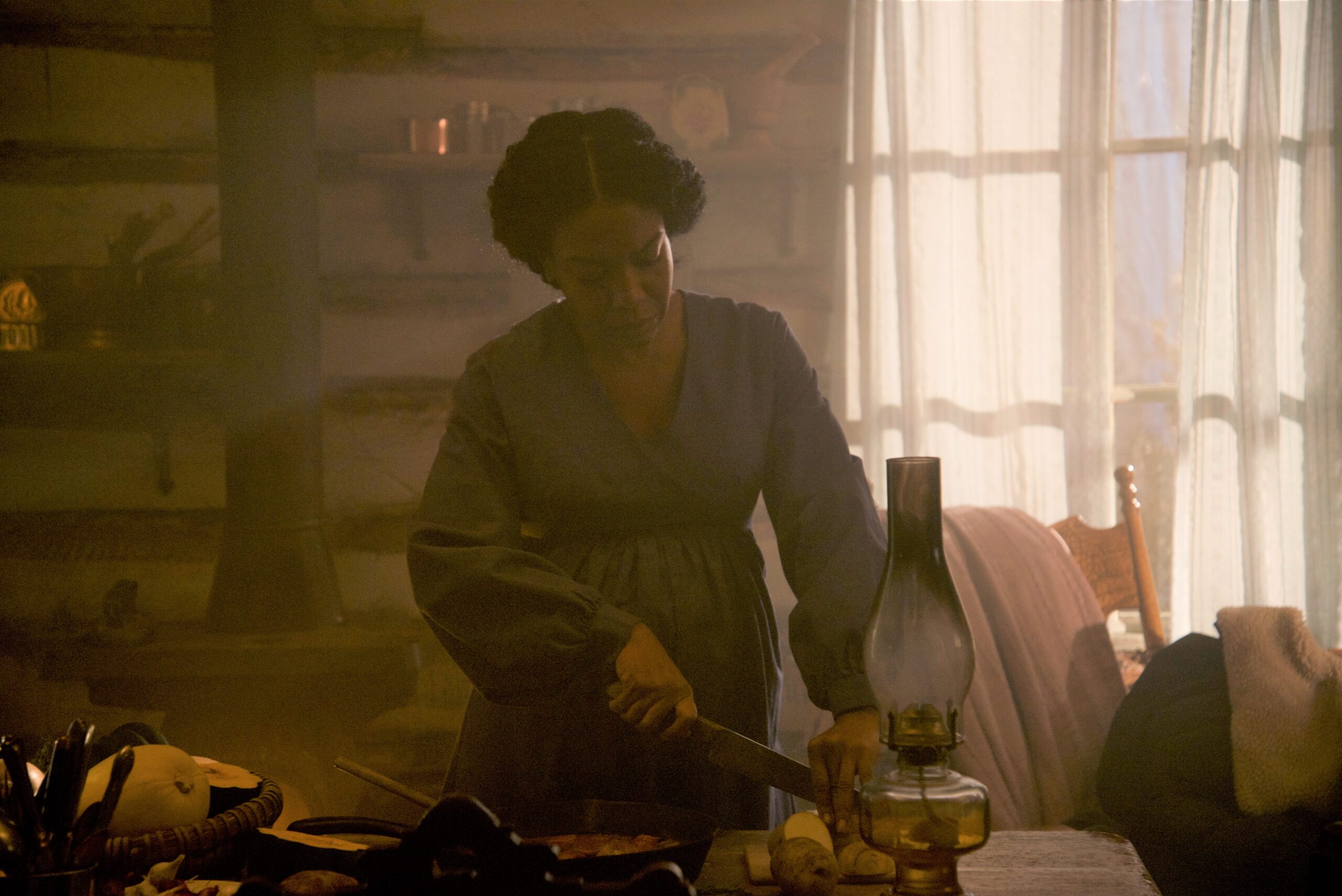 Jessica Frances Dukes in Organ Trail
Despite Western film portrayals, over a quarter of Western settlers in the 1800s were Blacks, and half were women. In this new western Organ Trail, actress Jessica Frances Dukes jumped on board to play a character representing more of the American frontier.
The film stars Zoé De Grand'Maison, Nicholas Logan, Olivia Applegate, Michael Abbott Jr., Jessica Frances Dukes with Clé Bennett, and Sam Trammell.
Here is the official synopsis:
A ruthless band of bloodthirsty bandits terrorizes a family on the treacherous Oregon Trail and challenges one woman's will to survive.
LRM Online's Gig Patta spoke with actress Jessica Frances Dukes in a phone interview. We talked about the sets, Blacks in Westerns, her character, stunts, and the wild frontier.
Jessica Frances Dukes is best known as special agent Maya Miller on the Netflix series Ozark and as Grace in the Netflix series Jessica Jones. She had appearances on NBC's New Amsterdam, NCIS: New Orleans, and CBS' The Good Wife. On the theater side, she played Millie Davis in the Tony-nominated Trouble in Mind on Broadway and is an Obie Award Winner for Bootycandy at Playwrights Horizons Off-Broadway.
Organ Trail is available digitally today.
Read the exclusive interview with Jessica Frances Duke below.
Gig Patta: Organ Trail is a terrific movie. You must love these Westerns, but I must hear it from you. What initially drew you to this project?

Jessica Frances Dukes: When I read the script, the first thing that drew me to it was the resilience of the women. The power within the women and the story, the fights they all have, both physically and emotionally. At that time, the constraints on them, they break through it in this script. I just absolutely fell in love with that.

Gig Patta: Now tell us about the character that you play in this Western because a lot of people aren't familiar with the idea of Blacks being in the Western. Now we are more familiar with them because historically it is nearly a quarter of them were in the frontier.

Jessica Frances Dukes: Right? I really love playing Nora. She's the wife of Eric. They have their own home, farm, and ranch in the middle of nowhere. It was awesome to sort of read about a couple that wasn't struggling to survive. They were just in their own power. It was beautiful to sort of look up images of that time to see those pictures of us in that life. It was really beautiful. And I learned so much about that time period as well.

Gig Patta: Oh, really? What did you learn?

Jessica Frances Dukes: As you said, I hadn't seen images of us in Westerns, or I didn't grow up with that. Recently, you have certain movies that you're starting to see more. It took me back to like Buck the Preacher Man with Sidney Portier and Harry Belafonte. It was awesome to be a part of that story and storytelling in that way.

Gig Patta: It is quite a different experience to be in a Western compared to many projects that you have done before, right?

Jessica Frances Dukes: Absolutely. At the same time, I went to a horse riding camp. I went to school in the mountains. So it was just perfect for me. I loved it.

Gig Patta: Oh, really? So you grew up in this.

Jessica Frances Dukes: I didn't up with it, but I have been exposed to it. I'm absolutely in love with the farm life. I want to have a garden. I want to have horses. I want to have all that stuff. I was right at home, pretty much.

Gig Patta: Well then, tell us about this scenery from this ranch. I believe this film took place in Montana.

Jessica Frances Dukes: Yes. It was absolutely gorgeous. It was one of the most beautiful things I had seen. It was so shocking to me that we want to travel all over the world, but we forget–there are so many beautiful things right here.

Gig Patta: So, was this an actual ranch, or was it a makeshift cabin?

Jessica Frances Dukes: There were numerous locations. We had land that we were on that belonged to someone. Then there's also a ranch and western town that has been built that I think a lot of people film at. It was like we pulled up, and all of a sudden, I was in 1870. It was just absolutely beautiful.

Gig Patta: Most of your scenes were at the so-called ranch with Nora and Eric, right?

Jessica Frances Dukes: Correct. The outdoor scenes were at the ranch, but most of the indoor were built on a stage. It was a fabulous set design by Martina Buckley. She turned the space into Nora and Eric's home, and it was absolutely beautiful. I took all this footage because I was stunned by how specific and beautiful her art was.
Gig Patta: When I was watching the movie, all I got a sense of was a lot of isolation and coldness out on the ranch in the film.

Jessica Frances Dukes: Absolutely, we had battery-operated long johns. We were ready for the zero degrees temperatures. It was zero degrees in the middle of the day.

Gig Patta: That's why you have the job that you have because you love doing this.

Jessica Frances Dukes: It brings you towards your character. This is what they're used to, and they are surviving through it, all about making it work for them. So it brings you into the realness of it.

Gig Patta: Your character's real realness is that she's also pregnant in this wild frontier.

Jessica Frances Dukes: Very pregnant. Yes.

Gig Patta: So what was it like playing a pregnant woman in the wild frontier then?

Jessica Frances Dukes: All the women in their own way, had their own beautiful obstacles that they were working with. I don't consider her pregnancy an obstacle, but it definitely just made me look at her as so much stronger. It's just about the women and what they were dealing with in those times and how life is not easy. It was not easy. And yet she can still lead with love, take care of her home and her husband and anybody that comes on her land. It was really an honor to play someone that is that type of person.

Gig Patta: Of course, this is the wild frontier. Everything's very unpredictable, very violent. Tell us about your choreographed fight scene. I want to say you did your own stunts, right?

Jessica Frances Dukes: I did. Did I do everything? I think I did. But we had a wonderful team of stunt people, though. I definitely was one who was like, "Can I do that?" It was so much fun working with the stunt team, the stunt choreographer, and the director. They were so specific about that storytelling at that moment. It was tough to jump into that. You're scared you might injure someone, but these people are professionals. They're amazing. It was a joy to work with them.

Gig Patta: Well, it sounded like a fun scene for you. That's for sure.

Jessica Frances Dukes: It was. It makes you respect stunt people and the stunt world. I don't feel like they get enough credit.
Gig Patta: Tell us about your onscreen partner, Clé [Bennett], on this project.

Jessica Frances Dukes: Absolutely, I loved working with Clay. I had already been a fan of his career, and we'd known each other's work. So it was wonderful to build their home with him. He was just so collaborative. The energy was immediately just wonderful. We had a great time together.

Gig Patta: Well, Jessica, let me start wrapping things up with you. What are some of your upcoming projects now after Organ Trail?

Jessica Frances Dukes: I have a few things coming up in July, and you can look out for them. I feel like I can't say anything with the NDA ninjas are going to come down and grab me. It's going to be some fun stuff coming up and a lot more action too. So I'm excited about it.

Gig Patta: A lot more action. That does sound exciting to you. One more thing before I leave, you didn't do any horseback riding in this film. Did you regret that off-screen?

Jessica Frances Dukes: I wanted to so bad. I wanted to ride all the horses. As a very pregnant woman in the movie, you don't get the chance to see that. But I'm sure she does.

Gig Patta: Well, perhaps next time. The opportunities of more westerns are coming up. Thank you very much, Jessica. Hopefully, we get to do this again.

Jessica Frances Dukes: Thank you, Gig. Bye-bye.
Organ Trail is available digitally today.
Source: LRM Online Exclusive


Have you checked out
LRM Online
's official podcast feed yet
The Genreverse Podcast Network
? This includes our premiere podcast
The Daily CoG
, 
Breaking Geek Radio: The Podcast
,
GeekScholars Movie News
,
Nerd Flix & Chill
,
Marvel Multiverse Mondays
,
Anime-Versal Review Podcast
, and our Star Wars dedicated podcast 
The Cantina
. Check it out by listening below. It's also available on all your favorite podcast apps!
Subscribe on:
Apple Podcasts
| 
Spotify
 | 
SoundCloud
|
Stitcher
|
Google Play